Why Cloud Computing is Essential for the Modern Manufacturing Industry?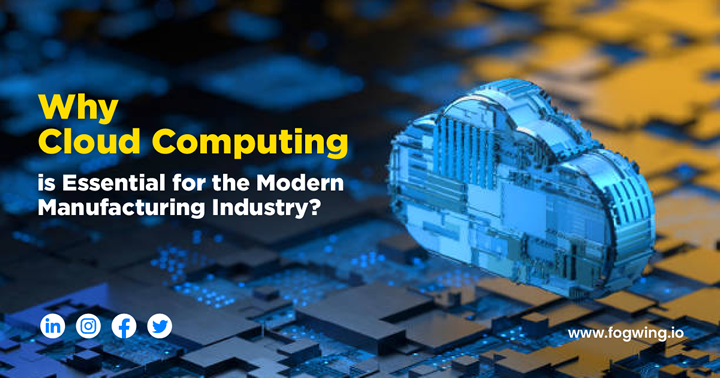 Cloud computing provides services to enhance manufacturing operations by working with computing power, big data processing, and making decisions based on its insights. Hence, Cloud computing is an essential resource in the modern manufacturing Industry. Cloud computing's role in manufacturing has grown exponentially, from acquiring environmental data of machines to supply chain management through IoT applications and other advanced technologies.
Despite several challenges in Cloud adoption, Manufacturing companies are choosing cloud-based solutions over on-premises solutions in modern manufacturing. As Manufacturing companies are witnessing far more challenges with on-premises in data management, lack of visibility into the supply chain and other key areas like infrastructure cost, and more. Hence, a great number of manufacturers are wisely adopting cloud computing into their smart factory setups to overcome such challenges. With cloud computing in place, manufacturing industries are moving towards a complete digital transformation.
How cloud computing supports Modern Manufacturing?
Cloud computing is witnessed to be a completely game-changing technology in modern manufacturing. It plays a significant role for small, medium, and large manufacturers as it enables companies to avoid countless business and technical issues associated with running IT operations in their own data centers. By tracking production data, material usage, quality counters, time-stamping finished goods, and much more, cloud computing is supporting manufacturers gain insights into the manufacturing business processes.
Cloud computing technologies can easily be integrated with the following key areas in Manufacturing operations.
Supply Chain Management
Manufacturing Execution.
Managing inventory.
Managing sales and marketing
Customer service
Human resources automation.
Accelerating new product development and more.
Cloud computing and the Industrial Internet of Things (IIoT) in Manufacturing?
The Industrial Internet of Things (IIoT) is considered a data-driven technology that acts as a data aggregator which collects industrial data that requires lots of storage and processing power. Cloud computing integrated with IIoT, serves the purpose of data gathering, data storage, and big data processing. Manufacturing companies should leverage cloud computing to process and analyze a large volume of data collected from manufacturing facilities through IIoT.
IIoT integrated with cloud computing draws and analyses the data to provide relevant and meaningful data for organizations to improve productivity. Cloud computing provides IoT devices with services such as processing power, applications, and data storage. With cloud computing, modern manufacturing can utilize data remotely, without the need for on-premises hardware or software.
Manufacturing companies implement Industrial IoT software into their smart manufacturing set-up, to collect machine data and store it in cloud storage for later processing. Cloud computing offers Cloud-based business intelligence solutions that can be used by manufacturing companies to meet their various needs which include Machine health monitoring, production management, inventory management, etc. The growth and development of IoT and related technologies are mainly dependent on the availability of cloud services. Hence, Cloud-based IoT solutions are essential in transforming a manufacturing industry into a smart factory.
Use cases and benefits of cloud computing in manufacturing
Manufacturers leverage Cloud-based solutions to help them plan, execute, and manage the entire operation. Let us figure out a few use cases and benefits of Cloud Computing in modern manufacturing:
Machine Monitoring:
The cloud-based IoT platforms can be used by manufacturers to get real-time machine data from the shop floor. These machine data help manufacturers to monitor the machine's availability at the plants, productivity, energy usage, machine maintenance, and quality production of each machine. This also helps manufacturers to plan production activities according to machine performance and availability.
Operational data monitoring:
Apart from data storage, Cloud computing helps modern manufacturing businesses to have instant and remote access to crucial operational metrics such as capacity utilization, inventory data, scheduling plans, job orders, overall equipment effectiveness, etc. This in turn enables the manufacturers to solve any operational issues more quickly.
Data Security:
Cloud-based tools ensure enhanced data security as compared to on-premises infrastructure due to the wide security solutions available as cloud services. All cloud computing tools provide data encryption and deterrents that allows the manufacturers to go with cloud-based solutions.
Cost Reduction:
Cost reduction is one of the primary reasons why Manufacturing companies are adopting cloud technologies. With cloud computing, manufacturers can avoid significant IT resource costs in computing power, data storage, processing, and web solutions. Most of the cloud computing providers offer pay per usage subscription-based investment model rather than CAPEX.
Supply Chain Management:
cloud computing helps organizations to optimize supply chain management from procurement and control the material planning process till the final product delivery. From demand forecasting to inventory or logistics management, there are a variety of applications for the entire supply chain that can be hosted on a single cloud-based platform.
Manufacturing companies choosing cloud-based solutions in their production operation achieve endless benefits such as cost efficiency, scalability, flexibility, high-end visibility, and more.
Top few examples of Industrial cloud platforms
A cloud platform or cloud service provider delivers scalable computing resources via the Internet. Popular cloud service providers like Microsoft Azure, AWS (Amazon Web Services), Google Cloud Platform, and Fogwing Industrial Cloud are becoming more affordable than ever. The service and security model offered by these cloud service providers makes them an ideal choice for manufacturing companies.
Recently Frost & Sullivan RADAR analyst report found top companies offering Digital Industrial Platforms for the modern world. The report identified the top 33 platform providers and solutions.
Conclusion:
Overall, Cloud computing can be applied to all stages of product management– from demand forecasting, designing, testing, production, and go-to-market strategies. Most SMEs today have adopted cloud technology in some shape or form to meet their various manufacturing needs.
Shimpi Das, an avid reader, Technical Writer, and blogger who writes on a variety of content. Mrs. Shimpi says about herself, '' I am an extrovert through my writing, as my pen moves faster than my tongue''. Apart from writing a wide array of content, Mrs. Das has a keen interest in Literary criticism. Mrs. Shimpi, a post-graduate in English literature believes in portraying thoughts into words is always a wise choice
Comments (0)
This post does not have any comments. Be the first to leave a comment below.
---
Post A Comment
You must be logged in before you can post a comment. Login now.
Featured Product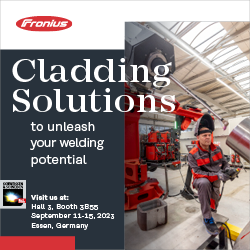 Ever since the invention of our "cold" MAG welding process Cold Metal Transfer (CMT), if not earlier, we have continuously achieved a technological edge in many welding-related areas, resulting in cutting-edge mechanized and automated welding systems. Advanced power source technology stabilizes the arc and ensures perfect welding results. Modern monitoring sensors optimize guidance of the welding torch and compensate for component tolerances. Last but not least, smart data documentation systems assist in perfecting the welding process. Collaborative systems, smart sensor technology, software solutions for data management, and offline programming including welding simulation open up profitable welding opportunities for metal processing companies starting with a single batch. That is why our robotic welding cells prove profitable not only for large companies, but also for small and medium-sized enterprises.