Removing IT bottlenecks: the key's simplicity - How low code platforms can reduce the workload
A report by Mulesoft found that the IT teams of just 37 per cent of organizations completed all of their assigned projects last year. Digitalization can gather valuable data insights and optimize processes, but progress is often held back by the large IT workload such projects create. Here, Johan Jonzon, CMO and Co-Founder of pioneer in edge analytics for the industrial Internet of Things (IIoT) Crosser, looks at how low code platforms can eliminate IT bottlenecks.
Digital transformation is a megatrend for industry, with companies adopting sophisticated technologies to boost efficiency and improve value for customers. However, digitalization can be challenged by a cloud of data complexity, producing a substantial workload for IT teams. In fact, the Mulesoft report also revealed that the number of projects assigned to IT departments has increased by at least 30 per cent each year since 2017.
What's more, the report found that IT budgets are not rising in line with growing business demand. Paired with an industry-wide lack of developers, the IT delivery gap is widening.
Take the shortcut
With limited resources and a backlog of projects, the only way IT teams can speed up progress is to find a quicker way to complete tasks. Shortcuts are commonly associated with a job half done, but finding the most efficient and simple way to work is in fact the best approach.
Typical analytic platforms can demand extensive coding languages, which require highly trained and experienced developers to master. Companies can save time by switching to a low code platform, which provides a multitude of shortcuts to usual processes.
Low code platforms have visual interfaces with intuitive logic and simple drag-and-drop features. By relying on as little code as possible, low code platforms are easier to use and don't require experienced coders or software developers. The streamlined nature of a low code platform means existing staff from other areas of an industrial business can easily master the platform.
By sharing the IT workload across the organization, managers can ease pressure on individual employees and teams. This is particularly imperative, as a survey by Indeed of 1,500 US workers found that over half are experiencing burnout.
Industrial businesses can accelerate their digital transformation by opting for a low code platform, due to its overall quicker nature and ability to be operated by a wide range of employees. In fact, Forrester says that software development can be conducted ten times faster when using a low code platform, as opposed to traditional processes. Additionally, almost 80 per cent of IT developers believe that using low code frees up developer time to work on more advanced projects, according to a survey by low code platform company Appian.
Keep it simple
The simplest solution is often best, and the Crosser platform was created with this in mind. Designing, deploying and managing data flows are fast and easy for any user, thanks to the pre-built modules and drag-and-drop feature in the Crosser Flow Studio. The straightforward and logical system means the platform is suitable for those with minimal experience in developing.
Digital transformations can be fraught with complexity from limited bandwidths, thousands of tags, raw data and fragmented networks. For instance, the connected devices in a plant may be producing too much data for the bandwidth to cope with, creating a slow network performance. The Crosser platform can overcome this issue by streamlining and effectively managing data, meaning there is less resulting data for the bandwidth to handle.
Another benefit of selecting a centralized low code platform is that they are meticulously tested and approved, as they are going to be installed by many users and will affect a number of different systems and use cases.
Digitalization can revolutionize industrial processes, but IT bottlenecks impede its potential. These hurdles can be overcome if businesses opt for low code platforms, which can be operated by employees across the company without extensive coding experience. This accelerates the digital transformation of an industrial business by increasing the efficiency of IT operations — and proves that simplicity is key.
To learn more about Crosser and its edge solutions, visit https://crosser.io/
About Crosser Technologies
Crosser is a Swedish software company with installations in over 20 different countries. We design and develop a Low-Code software platform for Streaming Analytics, Automation and Integration for any Edge, On-premise or Cloud. Our aim is to remove complexity, simplify development and to enable non-programmers to innovate faster with a dramatically lower total cost of ownership. Our vision is that there are enormous business opportunities for companies When Machines Talk(™).
The software is ideally suited for Enterprise customers of various Industrial verticals such as Process Industry, Manufacturing, Utilities and other asset rich verticals. The modular and flexible solutions enable many different applications, including Industry 4.0, Industrial IoT and next generation Hybrid Integration, also called Hyper Automation by Gartner.
Industrial customers include, SCA AB, Valmet Corporation, Novo Nordisk, Gebhardt, Clarebout Potatoes and RubbleMaster.
Crosser was included in the "Cool Vendors in IoT Edge Computing, 2018" report by Gartner, Inc. and was named among the Top 10 Smart Factory Solutions in Europe 2020 by the industry magazine Manufacturing Technology Insights.
Comments (0)
This post does not have any comments. Be the first to leave a comment below.
---
Post A Comment
You must be logged in before you can post a comment. Login now.
Featured Product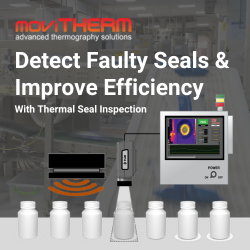 MoviTHERM's Thermal Seal Inspection (TSI) solution provides precise and reliable detection of defects in a variety of packaging types, including pouches, bags, blister packs, bottle caps, and more. By detecting defects in your packages, the TSI solution helps increase efficiency in your production line and ensures top-quality packaging is delivered to your customers every time. With state-of-the-art technology and an experienced team, MoviTHERM is dedicated to delivering accurate inspection solutions and peace of mind to its clients. Contact MoviTHERM today to learn more about their thermal seal inspection solution.