Low-code: accelerating digital transformation
Productivity issues, skill shortages and business project backlogs are the main reason that low-code solutions will make up 65 per cent of application development by 2024, according to Gartner. When looking towards the future, low-code platforms will be key in accelerating digital transformation. Here, Johan Jonzon, CMO and founder of edge analytics pioneer Crosser, explores why.
Rather than using complex coding languages, low-code platforms use visual interfaces with simple logic and drag-and-drop features. This enables users to master a single system, making them simple enough to be used by almost anyone working within the facility. According to OutSystems, an app development platform, these advantages are the top reasons why low-code is chosen by IT leaders to accelerate digital transformation.
Maintaining the life cycle of flows
In the constantly-changing Industry 4.0. landscape, facilities need to adapt quickly, and their data flows must reflect that. Over the lifetime of a project, libraries connected to a specific program will need to be updated, credentials including passwords and users will change, security will increase, and data might need to be sent to different destinations. This makes maintaining and updating data flows challenging and costly.
The majority of total cost of an application is spent on the lifecycle management. However, low-code offers cost reduction because users only need to update settings and flow designs — not the code itself — which requires fewer resources. As low-code platforms can be accessed by anyone with limited knowledge, there is little need to hire external specialists, meaning inhouse departments can become more effective, saving recruitment costs.
Passing the power to citizen developers
As digital transformation accelerates, data volumes increase and industrial facilities become smarter, there will be a more desperate need to leverage non-developer workers to manage business applications without the need to involve IT departments.
Using a low-code platform makes empowering the citizen developer much easier to execute because of its simple and quicker nature. In fact, results have shown that 70 per cent of low code users with no prior experience of using low code platforms learned low code in less than one month.
Furthermore, the combination of rising software developer costs and the widening IT skills gap means it's vital for facilities to reduce reliance on external IT experts. By empowering non-developers with the ability to create and manage data flows, workloads can be shared across the workforce to reduce pressure, allowing more to be done in less time. AppSheet revealed that 80 percent of organizations, state that citizen developers have given IT departments more breathing room.
Centralized orchestration
In today's Industry 4.0. environments, factories can be a minefield of data — and this is only going to increase. Especially for enterprises with multiple facilities located in different countries, all with several process areas and personalized IT setups, the easiest way to monitor all activity in unison is to ensure centralized orchestration..
Centralized orchestration with a hybrid integration approach is the perfect combination that the industry needs. And this is often found with low-code platforms. It allows teams to work from numerous sites creating specific use cases, which can be monitored centrally. It provides facility managers with a focal vision of what's being deployed anywhere, at any time. This centralized view helps to achieve simplified, unified orchestration, operational peace of mind and improves efficiency.
Furthermore, digital transformation will not revolve solely around edge, Cloud, or on-premise — it will involve using all three. Crosser's low-code hybrid integration platform enables a "hybrid first" approach, which means dataflows can be deployed and managed on any network level, from edge to on-premise. This unique solution makes it easier to monitor and maintain data flows using a centralized platform — eliminating the need for additional systems to compensate for different areas of data flow deployment.
Digital transformation will involve becoming more agile and streamlining as many processes as possible. One of the most efficient ways to ensure this is with a low-code platform, which is purpose built for industrial requirement. As the need for data flows grows, facilities must opt for platforms that can provide lower lifecycle costs, deeper insights and leverage talent inhouse when considering the future impact of digital transformation.
About Crosser Technologies
Crosser is a Swedish software company with installations in over 20 different countries. We design and develop a Low-Code software platform for Streaming Analytics, Automation and Integration for any Edge, On-premise or Cloud. The Crosser Platform enables real-time processing of streaming, event-driven or batch data for Industrial IoT and Intelligent Workflows. It is the only platform of its kind that is purpose-built for Industrial and Asset Rich organizations.
The solution is built to fight complexity with simplicity through the Crosser Flow Studio, the visual design tool that enables teams to innovate faster than ever without developers. The software is ideally suited for Enterprise customers of various industries and applications, including Edge Analytics, Industrial Connectivity, Industry 4.0, Streaming Analytics, Hybrid Integration and Intelligent Workflows.
Industrial customers include, SCA AB, Valmet Corporation, Gebhardt, Clarebout Potatoes and RubbleMaster.
Crosser was included in the "Cool Vendors in IoT Edge Computing, 2018" report by Gartner, Inc. and was named among the Top 10 Smart Factory Solutions in Europe 2020 by the industry magazine Manufacturing Technology Insights.
Comments (0)
This post does not have any comments. Be the first to leave a comment below.
---
Post A Comment
You must be logged in before you can post a comment. Login now.
Featured Product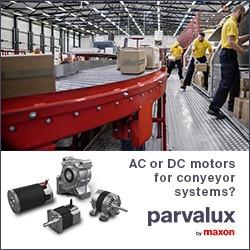 An effective, reliable and efficient drive system is essential to any material handling equipment, whether it's a motor-assisted tow truck, a barrel lifter, a robotic vehicle or a complete high-capacity parcel sorting hub; Parvalux designs and manufactures an exciting range of AC, DC brushless and brushed motors and our drives are valued for their performance and reliability.