5 Design Considerations for Constant Force Springs
The design aspect of the engineering field provides the avenue to create solutions to everyday problems; however, mechanical engineers must overcome unique challenges to find these solutions. And, they have to overcome challenges in a timely and cost-effective manner.
Design is the foundation of any engineering project, even at the component level. Once engineers have established the desired function of a device or machine, it's important that they develop the right components to carry out that function. For devices that require a smooth range of motion and constant load, mechanical engineers should consider constant force springs.
While constant force springs are often small and compact, they play a big role in the function and performance of your device. Failing to account for design at the component level could mean costly re-designs and missed deadlines. Here are a few of the design considerations engineers must account for when manufacturing a constant force spring for their device.
1. Load Conditions
Identifying the load condition is the best starting point when designing a product that may require the use of a constant force spring. The most important property of a constant force spring IS the nearly flat force gradient. All other types of springs have a considerable gradient and thusly a narrower optimum operating range.
2. Mounting Requirements
Constant force springs are available in several different outer end conditions based on the type of load engineers require them to handle. Mounting of the coil itself can typically be achieved with a drum, spool or post, depending on friction and/or spring force concerns.
3. Length
A sometimes-overlooked aspect of constant force springs is not just their full length, but also the extra material needed to make room for one or two turns when the spring is fully extended. Engineers may also need to factor in additional material if they plan to mount the spring on an oversized spool.
Note that when the designer includes a leader or pickup before the spring, they should also include this in the overall calculation of the length.
4. Material
Not all springs are created equal. The material can make a significant difference. For most applications, engineers rely on 301 stainless steel. If the springs are to be used in a harsh environment, Inconel and Elgiloy are alternative materials to consider.
When choosing a material type, be sure to consider the environment the final product will operate in. Note that extreme temperatures and corrosive atmospheres may negatively impact the lifespan of the springs.
5. Consider the Lifecycle
One of the most predictable factors in design is the lifecycle of constant force springs. This makes it easy for engineers to choose a spring accordingly. In most instances, the lifecycle of constant force springs falls between 4,000 to roughly 25,000 cycles. They however can be designed for a much larger number of cycles if space is not a critical factor in the design.
The higher the number, the greater the likelihood that engineers have to plan for potential premature failure. It is better to overestimate than underestimate the lifecycle. That said, the higher the estimate, the more money you can expect to spend. Manufacturers consider materials and the spring's diameter. This helps to ensure that it can withstand repeated stress without deformation.
It is best to consider these design factors to determine if stock or custom constant force springs are suitable for your device. Through testing and analysis early in the design phase, you can ensure that your spring configurations are exact. In the long run, this can improve your device's performance. To reduce cost and save time, partner with a manufacturer that has a design engineering department that understands these factors.
About the author: Edward Jones is the marketing manager of John Evans' Sons, the international designer and manufacturer of constant force springs, constant force spring assemblies, spring powered reels, helical vibration isolators, and other mechanical components. John Evans' Sons has been committed to innovation, outstanding product quality, and exceptional customer service since 1850.
Sources: 1. https://dspace.mit.edu/bitstream/handle/1721.1/92186/897206877-MIT.pdf?sequence=2
Comments (0)
This post does not have any comments. Be the first to leave a comment below.
---
Post A Comment
You must be logged in before you can post a comment. Login now.
Featured Product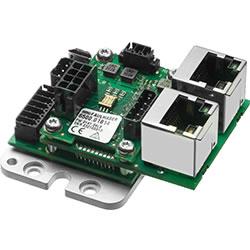 MOTION CONTROLLERS FOR MINIATURE DRIVES AND MICRODRIVES. FAULHABER has added another extremely compact Motion Controller without housing to its product range. The new Motion Controller is ideal for integration in equipment manufacturing and medical technology applications. With 36 V and 3 A (peak current 9 A), it covers the power range up to approx. 100 W and is suitable for DC-motors with encoder, brushless drives or linear motors.