The Anatomy of a Great Association
In 2019, the Control System Integrators Association celebrates a quarter of a decade – and came full circle – when it returned to North Carolina 25 years later, April 29 – May 3, for its Executive Conference.
The event, which drew more than 530 attendees from around the world, offered education and networking – both formal and informal – to help system integrators stay current, grow their businesses and prepare for the future.
It also offered the opportunity to celebrate an important milestone -- 25 years – and a chance to reflect on its humble beginnings.
The Steve Jobs of CSIA
Originally known as systems houses or simply integrators, control system integrator emerged as an independent profession in the 1960s, when computers first arrived on the factory floors and inside industrial control houses. The people who developed the expertise to program and connect the technology that heralded a new industrial revolution came from various academic and professional lineages; no single forum existed for members of this emerging profession.
Charlie Bergman, a retired engineer, recognized the emergence of the control system integrator as an independent profession and began publishing a four-page newsletter in 1989. It supported this emerging profession by publishing information on how to run a successful business. Subscribers could benchmark their progress by sharing sales trends and other key statistics.

The Foundational Values
Less than five years later, 25 of Bergman's readers met at the Shell Island Resort, a small hotel in Wrightsville Beach, North Carolina. Many were understandably skeptical about consorting with competitors and potentially giving away their secret sauce.
But instead of finding a you-can't-touch-this mentality, these pioneers discovered a culture of sharing and support.
"Most of us were guarded at best," recalls CSIA Co-Founder Jamie Jordan, who is currently president of Stravicom Global, Inc., a professional services firm in Charleston, South Carolina. "But Charlie encouraged us by telling us that those who share with others will be strengthened and will also strengthen the industry."
Co-Founder Robert Zeigenfuse, president of Avanceon, in Exton, Pennsylvania, agrees. "Charlie established, with his now infamous pitch, 'Share one idea and get 10 in return and save $50K of consulting,'" he says. "He [Bergman] established the norm of unselfishly sharing of business practices. This alone sets our organization and industry apart from all others I have seen."
The Result: A Great Association
Profits from the first meeting seeded the second conference in 1994, where attendees voted to form the association as an affiliate of the National Electrical Manufacturers Association, which would eventually be the standalone Control System Integrators Association.
Through the years since, the association has grown steadily from the intimate group of early adopters to its current size of more than 500 member companies in 40 countries. The association has also expanded on its core competency of exchanging ideas, solutions and lessons learned to create additional member benefits such as a Best Practices and Benchmarking manual, certification and continuing education, and insurance and legal programs specific to system integrators. It also developed and launched the Industrial Automation Exchange, the industry's only smart directory for system integrators, suppliers and end users to connect, exchange ideas and do business.
In short, from Bergman's vision came the key, defining concept of the future of CSIA: Sharing knowledge, best practices and key performance indicators to advance the success of all.
Co-Founder Pat Miller, chair, Engineered Energy Solutions Inc., Somerville, New Jersey, who was instrumental in organizing the earliest efforts, sums it up this way: "Charlie told us to share ideas with one another and it would come back tenfold," he recalls.
But the conference was not all spent in the past. In fact, it provided the perfect opportunity to also focus on going forward.
"To keep the association relevant, we have been working with the next generation of leaders," says Jose Rivera, CSIA CEO. "As we have been doing at recent conferences, a lunch was organized to allow this group to get to know each other better. Professional speaker Lisa Ryan shared her advice regarding onboarding younger generations. In addition, a panel of SI company owners provided career guidance to future leaders."
The association plans to continue facing forward with the 2020 Executive Conference: Claiming the Role of the SI in the Digital Transformation. In addition, CSIA has formed a task force to tackle this emerging trend and help its members prepare for the future.
"This task force is to figure out if industrial automation SIs have a role to play in the digital transformation beyond their traditional role of technology implementation," explains Rivera. " If so, what is this role and what do SIs need to do to prepare for this emerging opportunity?"
To learn more about the founding of CSIA, visit https://www.controlsys.org/about/history. For more information about the Control System Integrators Association, visit www.controlsys.org.
Lisa Richter is industry director for the Control System Integrators Association in Oakbrook Terrace, Illinois.
Comments (0)
This post does not have any comments. Be the first to leave a comment below.
---
Post A Comment
You must be logged in before you can post a comment. Login now.
Featured Product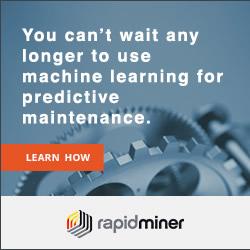 RapidMiner offers a data science platform that's built to enable people of all skill levels across the enterprise to quickly build and operate AI solutions to drive hard ROI for their organizations. Many data science tools are built to create accurate models, but cannot help manage the models into production, where they can have an impact. The platform covers the full lifecycle of the AI production process from data exploration and data prep to model building, model deployment and model operations. RapidMiner can help with a wealth of manufacturing use cases, like designing smart products, running smart factories, forecasting demand, ensuring quality, reducing production downtime, and managing supply chain risk.