Stäubli Technology Days to Showcase the Latest Robotics and Connector Solutions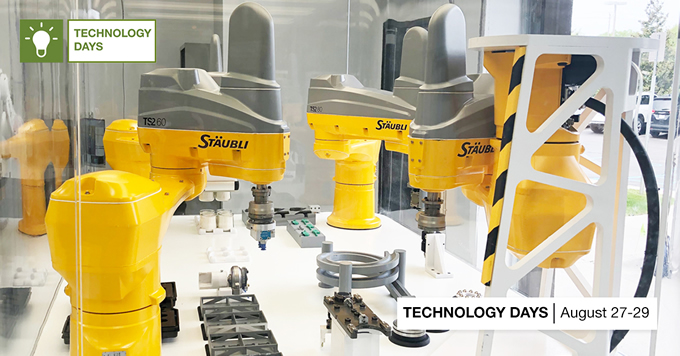 Stäubli, a global manufacturer of quick release couplings and robotics systems, is hosting a Technology Days open house event for the manufacturing sector, August 27-29, at its training facility in Novi.
Stäubli will showcase a variety of automation cells highlighting innovative solutions to streamline manufacturing processes, open to the public from 9 a.m. to 2 p.m. each day.
"Stäubli has leveraged our 30 years of automotive experience to develop unique robotic systems with the high performance and flexibility for the industry's demanding applications," said Sebastien Schmitt, Robotics Division manager, Staubli North America. "Stäubli's product range answers challenging production requirements and harsh environments from parts assembly to water-jet stripping, and our 6-axis machines, SCARA robots and fast pickers bring precision and reliability to production processes across the manufacturing spectrum."
Stäubli will display its new TS2 SCARA series, a completely redesigned four-axis machine with proprietary JCS drive technology that facilitates ultra-short cycle times and high repeatability. It also features a fully encapsulated hygienic design, which enables new applications in sensitive environments. The TS2 offers a smart connected tool that allows the option of either automatic or manual connection and disconnections of various tools, managed by Stäubli's CS9 controller.
Stäubli's new TX2touch robot, featuring a highly responsive, touch-sensitive skin system designed to stop the machine whenever it comes into contact with a human being, will also be featured. The 6-axis, TX2 collaborative robots combine speed, rigidity, size and precision for high performance and have unique features that make them adaptable to all industries, including sensitive and complex environments.
Demonstrations during Technology Days include:
TX2 40: Man-robot collaboration level 2 and level 3 for assembly processes
TX2touch: Man-robot collaboration level 4 featuring Asyril's flex feeding solution
TS2 60: Upgraded performance and tracking capabilities from Stäubli's new SCARA robot
TX2 60: Coordinate measuring robot in partnership with Metrologic
TX2 90L: Bin picking solution with Visio Nerf
RX 160: Robot master programming and machining process
Education cell: Stäubli Robotic Suite offline programming with real-time functionalities
TX2 90 HE: Water-jet cutting and stripping solution
Best practices for robotic maintenance
Manufacturing experts from Stäubli will conduct educational seminars at 10 a.m. on the topic of man-robot collaboration and risk assessment and at 11 a.m. on AGVs and mobile robotic solutions each day of the event.
To register, click here: Stäubli Technology Days - August 27-29, 2019.
Stäubli has invited a number of its technical partners to display products and field questions from attendees to provide a full overview of the new technical trends of the automation industry. Presenting partners include the following:
About Stäubli North America
Stäubli North America has over 200 employees supporting Connectors, Robotics and Textiles customers. The company's North American headquarters is located in Duncan, S.C., and the sales force is strategically placed on the West Coast, Canada, Mexico and elsewhere thoughtout the continent.
Stäubli is a leading manufacturer of textile machinery, quick release couplings and robotics systems. With a workforce of over 5,500 employees Stäubli is present in 29 countries supported by a comprehensive distribution network in 50 countries worldwide.
For more information, visit www.staubli.us.
Comments (0)
This post does not have any comments. Be the first to leave a comment below.
---
Post A Comment
You must be logged in before you can post a comment. Login now.
Featured Product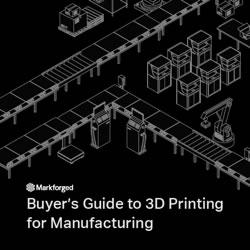 3D printing has become a powerful force in today's manufacturing industry from prototyping to tooling and fixtures to custom, end-use parts. Many businesses struggle to find the right solutions to fit their needs and provide ROI. Selecting the right platform to prevent manufacturing roadblocks is vital to optimizing your manufacturing line productivity. Download the all new buyer's guide to help you evaluate the benefits of 3D printing and dispel misconceptions, understand the pros/cons of various 3D printing processes and materials, and assess the key considerations in selecting a 3D printer.