SFA Explores MFG Day - Three journeys to close the MFG skills gap explored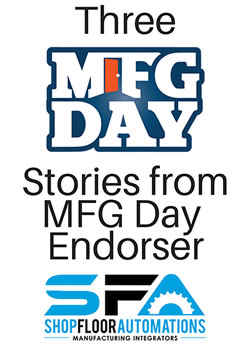 Shop Floor Automations (SFA), as an official endorser of MFG Day, shares stories of customers who are always looking for ways to close the manufacturing industry skills gap.
We wanted to take a moment to highlight three people we have worked with in 2018 and talk about special ways they are helping the MFG skills gap.
Customer: FuelCell Energy in Torrington, Connecticut. Solution SFA provides: DNC Software as well as Ethernet RS23 hardware. Issue to address: The shop needed old Bridgeport CNC machines to communicate to a new PC. Point of View on MFG Day: "In all the companies I work with, their workforce is in their 50's," says Ross Bonacci, Tool & Die Marker. "In another ten years, they have no one there to continue the work, so it's a great opportunity to get a trade…I see these kids leave college and they're in Starbucks or retail, but I feel like manufacturing is really making a comeback. It's a very satisfying career." Fun fact: Ross works a second job as a CNC machinist course instructor at Henry Abbott Tech in Danbury, Connecticut!
Neighbor: Rise Up Industries in Santee, California. Solution SFA provides: SFA was going to donate software or hardware for their operations, but we aren't able to until they expand. We instead became a customer of theirs! How they are helping our industry: Rise Up is an 18-month long program providing reformed ex-prisoners with a gang-affiliated past with CNC machine operator training, life skills training, real-life exercises in work ethics, and additional forms of support. Point of view on expanding the MFG workforce: "We tell these guys, they know the stigma that they have attached," says Machine Shop Manager/Instructor Dustin Greeves, who has been in the manufacturing industry for years. "I tell these guys that they train me as much as I train them." Fun fact: Rise Up not only has a machine shop, but they also screen-print shirts (this is where SFA's new shirts come from) and they sell their own brand of coffee in three different roasts!
Customer: Fredon Corporation in Mentor, Ohio. Solution SFA provides: Floppy drive emulators and portable USB drip-feeding hardware. Issue to address: Bridging a technological skills gap for older machinery with a solution that can be universally used at his 70,000 square foot home office. Point of view on meeting collective technology challenges: "I had to find a quick and easy solution that could be utilized by all team members, regardless of technical ability," says Randy Glover, Project Manager. "Very intuitive for some of our more seasoned machinists who are not super tech-savvy." Fun fact: Randy has technology-related tattoos!
About SFA: Shop Floor Automations is an official endorser of MFG Day and has been in business for 20 years. We are on social media on Twitter @SFA_Inc, as well as on Facebook, YouTube, & Instagram under our company name. Call for more info at (877) 611-5825 or Email info@shopfloorautomations.com
Comments (0)
This post does not have any comments. Be the first to leave a comment below.
---
Post A Comment
You must be logged in before you can post a comment. Login now.
Featured Product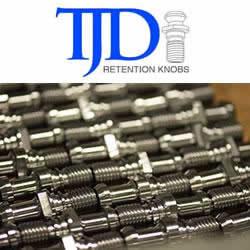 The retention knob or pull stud is a critical component to the tool holder's performance and cutting tool life. T.J. Davies' retention knobs are the highest quality retention knobs on the market. Our retention knobs, also called pull studs, are made in American from American drawn steel. For over 50 years, we have been second to none. We utilize 8620 and 9310 alloy steel for its high tensile strength to withstand strong centrifugal force, high load force, high feed rate, and difficult-to-machine material in the era of current CNC machining environment. As the forces exponentially increase, precision and strength in machining and tooling requires a higher quality of the retention knob or pull stud connecting the spindle to the tool holder.