Sciaky, Inc. and Concurrent Technologies Corporation Enter Strategic Partnership to Expand the Reach of Metal Additive Manufacturing
Sciaky, Inc., a subsidiary of Phillips Service Industries, Inc. (PSI) and leading provider of metal additive manufacturing (AM) solutions, announced today that they have entered a strategic partnership with Concurrent Technologies Corporation (CTC) to support a growing demand for high quality, large-scale additively manufactured metal parts. CTC will offer Sciaky's industry-leading Electron Beam Additive Manufacturing (EBAM®) metal 3D printing technology to its diverse range of innovative manufacturing clients who are looking to save time and cost on the production of large metal parts.
"Sciaky is excited to work with CTC and help educate its clients about the real-world benefits of EBAM technology," said Scott Phillips, President and CEO of Sciaky, Inc. "When compared to traditional forging methods, EBAM offers significant competitive advantages for customers all over the world by drastically reducing production time, waste, and costs associated with manufacturing large, high-value metal parts."
"We are extremely pleased to announce this newly formed strategic partnership with Sciaky," said Edward J. Sheehan, Jr., President and CEO of CTC. "We are grateful for this opportunity to collaborate with the talented team at Sciaky. Our clients will realize numerous benefits thanks to this arrangement."
As the most widely scalable metal additive manufacturing solution in the industry (in terms of work envelope), Sciaky's EBAM systems can produce parts ranging from 8 inches (203 mm) to 19 feet (5.79 meters) in length. EBAM is also the fastest deposition process in the metal additive manufacturing market, with gross deposition rates ranging from seven to 25 lbs. (3.18 to 11.34 kg) of metal per hour. EBAM brings quality and control together with IRISS® – the Interlayer Real-time Imaging and Sensing System, which is the only real-time adaptive control system in the metal 3D printing market that can sense and digitally self-adjust metal deposition with precision and repeatability. This innovative closed-loop control is the primary reason that Sciaky's EBAM 3D printing processdelivers consistent part geometry, mechanical properties, microstructure, and metal chemistry, from the first part to the last.
For more information on Sciaky, visit www.sciaky.com. You can also follow Sciaky on Twitter, Facebook, Google+, YouTube and LinkedIn.
For more information on CTC, visit www.ctc.com.
About Sciaky, Inc.
Sciaky, Inc., a subsidiary of Phillips Service Industries, is a world leader in metal 3D printing solutions. Our exclusive Electron Beam Additive Manufacturing (EBAM®) process is the fastest, most cost-effective 3D printing process in the market for large-scale metal parts, allowing manufacturers to save significant time and money over traditional manufacturing and rapid prototyping processes. Sciaky also provides industry-leading electron beam (EB) and advanced arc welding systems, as well as robust EB welding services, for the aerospace, defense, automotive, healthcare and other manufacturing industries. Our welding equipment meets rigid military specifications to manufacture items such as airframes, landing gear, jet engines, guided missiles and vehicle parts.
About Phillips Service Industries, Inc.
Established in 1967, Phillips Service Industries, Inc. (PSI) is a privately held global manufacturing and services holding company, which oversees a diverse collection of innovative subsidiaries: Beaver Aerospace & Defense, Inc., Mountain Secure Systems, PSI Repair Services, Inc., PSI Semicon Services, and Sciaky, Inc. Our companies serve a wide range of high-tech industries like aerospace, defense, automotive, alternative energy, healthcare, security and semiconductor. Together, we push the boundaries of technology, delivering innovative solutions for land, sea, air and space. We're PSI: Always innovating. Everywhere.™
Concurrent Technologies Corporation (CTC)
CTC is an independent, nonprofit, applied scientific research and development professional services organization. Together with our affiliates, Enterprise Ventures Corporation and CTC Foundation, we leverage research, development, test and evaluation work to provide transformative, full lifecycle solutions. To best serve our clients' needs, we offer the complete ability to fully design, develop, test, prototype and build. We support our clients' core mission objectives with customized solutions and strive to exceed expectations.
Comments (0)
This post does not have any comments. Be the first to leave a comment below.
---
Post A Comment
You must be logged in before you can post a comment. Login now.
Featured Product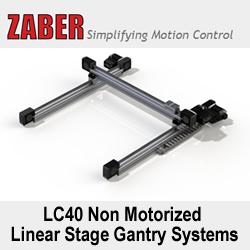 A Zaber gantry kit comes with everything you need to build a customized XY gantry system or XYZ gantry system. These gantry systems feature coordinated multi-axis motion, plug-and-play operation, easy integration with end-effector options, and built-in IO and E-Stop capabilities. An intuitive ASCII interface allows the user to easily communicate with the gantry systems using our free software, either Zaber Motion Library with APIs for several popular languages or Zaber Console. Third party terminal programs that can communicate over a serial port can also be used.