FluidFM® μ3Dprinter – A new function allows unique pinpoint metal additive manufacturing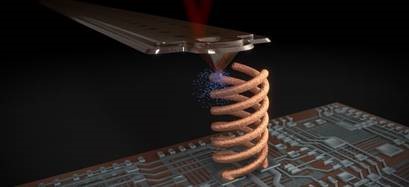 Cytosurge's FluidFM® μ3Dprinter is a standalone system for printing pure metal objects at the micrometer scale. The system has received a major design upgrade and has been further improved with a new and unique function: Printing on existing structures with pinpoint (micrometer) accuracy. This new function has the potential to lead to an entirely new way of thinking within the additive manufacturing environment and revolutionizes micromanufacturing by combining additive manufacturing with traditional microfabrication methods.
The FluidFM µ3Dprinter prints metal objects at the micrometer scale. The size of the printed structures ranges from 1 μm3 to 1'000'000 µm3, a range that is virtually inaccessible by other techniques. The metal is printed by an electrochemical process that works at room temperature and ensures a pure metal of high quality. Many designs can be printed by the system, including overhanging structures with 90-degree angles without support structures or post-processing steps.
The new pinpoint metal additive manufacturing process is made possible by two high resolution state-of-the-art cameras integrated into the FluidFM µ3Dprinter. The cameras enable automated loading of the print tips (FluidFM iontips), printer setup, calibration and computer-assisted alignment to print on already existing structures as well as the visualization of the finished structures. The bottom view camera is mainly used for internal system processes, like controlling the automated gripping of the FluidFM iontip. The top view camera images the object or surface to print on. With the high-resolution live video, the exact position of the object or surface to be printed on can be manually chosen and set as starting point for the printing process. This procedure allows the user to print metallic objects on contact pads that are pre-defined on the surface of an integrated circuit, on micro-electromechanical-systems (MEMS) or on other components. This unique capability of the FluidFM μ3Dprinter to add 3D printed structures directly onto existing objects or surfaces with pinpoint accuracy opens the door to a new world of additive manufacturing of complex metal objects.
FluidFM® Technology
FluidFM technology unites the best features of microfluidics and force microscopy by introducing microscopic channels into force sensitive probes, called iontips. The result is the FluidFM iontip, the heart of the micro 3D printing process. Through the microscopic channel inside the FluidFM iontip, a tiny volume of ion-containing liquid can be pumped and dispensed through a sub-micrometer aperture at the tip. These apertures can be as small as 300 nm, allowing flow rates as small as a few femtoliters per second, a million times smaller than what the best flow sensor can detect. Additionally, the force-sensing capability of FluidFM iontips provides real-time process control during printing.
As a result, complex, pure metal objects at micrometer scale can be printed. FluidFM takes manufacturing of microscopic complex metal objects to a level as yet unseen.
Cytosurge AG
Founded in 2009, Cytosurge AG successfully develops, manufactures and distributes cutting-edge and unique high-precision nanotechnology instruments as well as robotic systems based on its patented FluidFM® technology.
Cytosurge is focusing its activities into three distinct customer-oriented business units: AFM SOLUTIONS, CELL & BIOSCIENCE and 3DPRINTING, each adapted to its specific target market.
Whether via the FluidFM ADD-ON, a powerful upgrade solution for your AFM, the FluidFM BOT, a fully integrated system for injection into single cells, or via the award-winning FluidFM µ3Dprinter for 3D metal printing at the micrometer scale, Cytosurge provides leading-edge tools and processes to those who need or want to go beyond current technological boundaries.
Comments (0)
This post does not have any comments. Be the first to leave a comment below.
---
Post A Comment
You must be logged in before you can post a comment. Login now.
Featured Product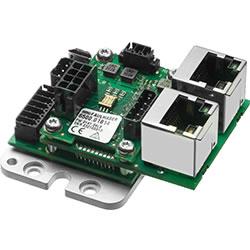 MOTION CONTROLLERS FOR MINIATURE DRIVES AND MICRODRIVES. FAULHABER has added another extremely compact Motion Controller without housing to its product range. The new Motion Controller is ideal for integration in equipment manufacturing and medical technology applications. With 36 V and 3 A (peak current 9 A), it covers the power range up to approx. 100 W and is suitable for DC-motors with encoder, brushless drives or linear motors.