Advanced Software Design Technology Leads GM into Next Generation of Vehicle Lightweighting
General Motors is using new, advanced software design technology to introduce the next generation of vehicle lightweighting. The technology is key to developing efficient and lighter alternative propulsion and zero emission vehicles.
GM is the first automaker in North America to use new generative design software technology from Bay Area-based software company Autodesk. It uses cloud computing and AI-based algorithms to rapidly explore multiple permutations of a part design, generating hundreds of high-performance, often organic-looking geometric design options based on goals and parameters set by the user, such as weight, strength, material choice, fabrication method, and more. The user then determines the best part design option.
"This disruptive technology provides tremendous advancements in how we can design and develop components for our future vehicles to make them lighter and more efficient, said GM Vice President Ken Kelzer, Global Vehicle Components and Subsystems. "When we pair the design technology with manufacturing advancements such as 3D printing, our approach to vehicle development is completely transformed and is fundamentally different to co-create with the computer in ways we simply couldn't have imagined before."
GM is leading the industry into the next phase of vehicle lightweighting. The new design technology provides significantly more vehicle mass reduction and parts consolidation opportunities that cannot be achieved through traditional design optimization methods.
GM is utilizing the innovative technology on future product designs. GM and Autodesk engineers have applied this new technology to produce a proof-of-concept part – a seat bracket – that is 40 percent lighter and 20 percent stronger than the original part. It also consolidates eight different components into one 3D-printed part.
As part of a multi-year alliance focused on innovation, GM and Autodesk will collaborate on projects involving generative design, additive manufacturing, and materials science. Executives and engineers from the two companies will participate in a series of onsite engagements to exchange ideas, learnings, and expertise. GM also has on-demand access to Autodesk's full portfolio of software and technical specialists.
"Generative design is the future of manufacturing, and GM is a pioneer in using it to lightweight their future vehicles," said Scott Reese, Autodesk Senior Vice President for Manufacturing and Construction Products. "Generative technologies fundamentally change how engineering work is done because the manufacturing process is built into design options from the start. GM engineers will be able to explore hundreds of ready-to-be-manufactured, high-performance design options faster than they were able to validate a single design the old way."
GM has been a leading end-user and innovator in additive manufacturing. For more than three decades, GM has used 3D printing to create three-dimensional parts directly from digital data through successive addition of layers of material. GM possessed the first and has some of the auto industry's most comprehensive 3D printing capabilities in the world with more than 50 rapid prototype machines that have produced more than 250,000 prototype parts over the last decade.
Since 2016, GM has launched 14 new vehicle models with a total mass reduction of more than 5,000 lbs., or more than 350 pounds per vehicle. Most of the weight reduction are a result of material and technology advancements. Of those models, more than half of the vehicles shed 300-pounds or more including the all-new 2019 Chevrolet Silverado, which reduced mass by up to 450-pounds.
Eliminating mass in parts where material is not required for performance combined with parts consolidation yields benefits for vehicle owners including the potential for more interior space and vehicle content, increased range, and enhanced vehicle performance. It also paves the way for new features for customers and provides vehicle designers a canvas on which to explore designs and shapes not seen today.
General Motors Co. (NYSE: GM, TSX: GMM), its subsidiaries and joint venture entities produce and sell vehicles under the Chevrolet, Cadillac, Baojun, Buick, GMC, Holden, Jiefang and Wuling brands. GM has leadership positions in several of the world's most significant automotive markets and is committed to lead the future of personal mobility. More information on the company and its subsidiaries, including OnStar, a global leader in vehicle safety, security and information services, can be found at http://www.gm.com.
Autodesk (NASDAQ: ADSK) makes software for people who make things. If you've ever driven a high-performance car, admired a towering skyscraper, used a smartphone, or watched a great film, chances are you've experienced what millions of Autodesk customers are doing with our software. Autodesk gives you the power to make anything. For more information visit autodesk.com or follow @autodesk.
Comments (0)
This post does not have any comments. Be the first to leave a comment below.
---
Post A Comment
You must be logged in before you can post a comment. Login now.
Featured Product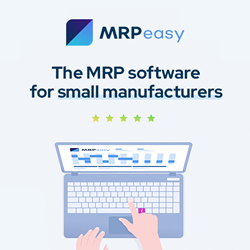 Always know what you have in stock and what you'll need to fulfill orders. Never forget to order parts on time or fail to notice a late delivery from your vendor. Easily create manufacturing orders and schedule them automatically according to resource availability or delivery deadline. Generate accurate cost and lead time estimates and provide customers with quick quotes. Receive notifications when orders are late or inventory levels reach a critical point. Ensure seamless communication between sales, production, warehousing, procurement, administration, and finance. Integrate with popular accounting, CRM, and e-commerce apps. MRPeasy is an ERP software for small manufacturers that gives you all that and more. Our users report a 54% average improvement in the overall performance of their business and a 42% increase in on-time deliveries. Try for free, no credit card needed.