T3D Smartphone 3D Printer Successfully Funded on Kickstarter
Michael Molitch-Hou for Engineering.com: The T3D uses a specially engineered resin, sensitive to white light, to use the light of a smartphone to 3D print objects. Similar to digital light processing (DLP), layered slices are projected from the phone onto a vat of resin. The print bed is gradually lifted out of the vat with each flash of light until a complete object is revealed.
The resin, tuned to the light from a smartphone, makes it possible to 3D print in the open air, though it is recommended that the printer not be exposed to sunlight or strong UV light during the printing process. The Taiwan 3D Tech team began with a curing time of around 5 minutes for 100-µm-layer thickness in 2012 but says that curing time is now about 15 seconds for the same thickness. As a result, the T3D may be about twice as slow as traditional DLP systems, but this is still amazing for turning a smartphone into a 3D printer.
T3D may not be the first smartphone 3D printer to be crowdfunded. That title would go to ONO, which received over $2 million in funding in 2016, but has been plagued with setbacks and has triggered numerous comments from angry backers demanding answers, printers and/or their money back. Full Article & Video:
Comments (0)
This post does not have any comments. Be the first to leave a comment below.
---
Post A Comment
You must be logged in before you can post a comment. Login now.
Featured Product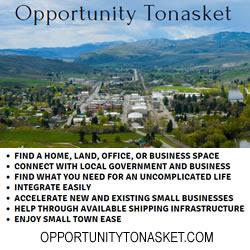 Our primary mission is to promote economic development and growth in the city of Tonasket, WA and surrounding area. This is a group of local citizens sharing a common goal. We wish to assist and promote existing businesses wishing to relocate, local businesses wishing to expand and local individuals wanting to startup a business. Preserving and enhancing the small town and rural lifestyle in a way which benefits everybody and maintains a healthy lifestyle. Opportunity Tonasket was created to be a hub for information and contacts with local city and county agencies, as well as local businesses and real estate connections. Their goal is to connect current and newly relocated individuals and businesses and "plug them in" with the best services, advice and experts in the area. Opportunity Tonasket is like a leg-up, as if one's already had a foothold in the community.