Finnish micro-factory highlights path to business success
Tim Sandle for Digital Journal: The ANT Plant is a Finnish industrial innovation that involves constructing a micro-factory. This approach can challenge the existing practice of mass production in countries with low production costs. A plant is to be set up in the U.S.
The Finnish micro-factory approach challenges the established model of a large manufacturing plant and workforce. Such traditional plants are effective at producing standardized goods at a rapid rate. However, they are less effective at niche production and their high set-up costs require the large scale production of goods at a relatively low cost in relation to the sale price.
In contrast, the micro-factory concept is based on robotics and a flexible approach to manufacturing. Then key selling point is that the factory can be set-up and put to work very quickly. Once established the manufacturing of products is straightforward. The designers of the concept - EID Tech (Kuopio, Finland) - operate partnership agreements to allow for the upkeep and to cover the lifespan services of the micro-factories. This helps, according to Jari Helminen who is the CEO of EID Tech, to reduce the operational expertise of the company who purchases a micro-factory.
The speed of the micro-factory construction process can be seen in the video below:

Full Article:

Comments (0)
This post does not have any comments. Be the first to leave a comment below.
---
Post A Comment
You must be logged in before you can post a comment. Login now.
Featured Product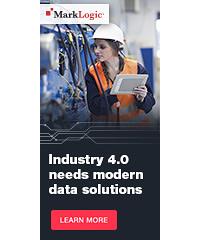 Use Data to Deliver Efficiency, Reduce Risk, and Create Better Products. Disruptive technologies and market changes are transforming the manufacturing industry, requiring a new focus on optimizing use of data and information. It all adds up to a new industrial revolution called Industry 4.0. Organizations who want to realize the potential of this revolution need to "Industrialize their data," making it a core asset to deliver better products and customer service, navigate complex business environments, and transform for the future. MarkLogic customers are delivering on this vision for data with a proven architectural pattern called the Operational Data Hub that simplifies the integration of data along the digital thread to power operational and analytic use cases across the enterprise.