Volkswagen Taps Ultimaker for Customized Tool Production
Ultimaker, the leading open source 3D printer manufacturer, announced today that Volkswagen Autoeuropa, specializing in engineering innovations and new car models, is using its solutions to quickly and cost effectively produce a variety of custom tools to aid in manufacturing. With a set of Ultimaker 3 and Ultimaker 2+ printers, engineers and line technicians no longer need to rely on external vendors, instead designing and printing gauges, jigs and fixtures on-demand, reducing tool development time by 95 percent and saving more than 90 percent in production costs.
"Since we have integrated Ultimaker's 3D printing technology into our process, 93 percent of what we previously sourced externally is produced in-house," said Luis Pascoa of Volkswagen Autoeuropa. "In addition to the time and cost savings we realize, the tools we output are more complex and ergonomic – and, ultimately, far more useful in our day-to-day operations because they are tailored to our needs."
The Portugal-based manufacturing plant, which produces 100,000 cars per year and employs 4,000 people, designed and printed 1,000 parts last year using Ultimaker and saw a 100 percent ROI within two months. Volkwagen Autoeurpoa saved $160k in 2016 and estimates that figure will increase to $200k in 2017.
Advantages of using Ultimaker's 3D printing technology for VW and other manufacturers include:
Complete Customization: With Ultimaker, it is now feasible to produce tools with complex designs and geometries, like cavities, undercuts and overhangs – something that is not a viable option with traditional tool manufacturing.
Unlimited Revisions: Making a revision to or enhancing the tool is simply a matter of tweaking the CAD file and re-printing, giving designers and engineers the ability to iterate on-demand.
Accelerated Delivery & Cost Savings: Machining a complex tool at a factory can take several weeks, if not longer. Manufacturers have seen a 40-90% reduction in lead time by printing tools on-site.
Accessibility Across the Enterprise: Ultimaker's technology seamlessly integrates into an organization with low cost of initial investment, no steep learning curve and simple scalability.
"The automotive industry has been a pioneer in the use of additive manufacturing to drive efficiencies, and Volkswagen Autoeuropa is a prime example of this type of forward-looking approach," said Jos Burger, CEO of Ultimaker. "We have seen on average a reduction of tool lead time from sixty to just six days, which dramatically increases productivity for manufacturers like Volkswagen."
Click here for additional information on VW's use of Ultimaker.
About Ultimaker
Ultimaker has been in operation since 2011, and over the years has grown to become a market-leader; creating powerful, professional, and accessible desktop 3D printers. With offices in the Netherlands, New York, and Boston, plus production facilities in both Europe and the US, Ultimaker's team of over 200 employees continually strives to offer the highest-quality 3D printers, software, and materials on the market. Their growing community of over 25,000 active members enables creators and innovators across the globe to connect and be inspired.
Comments (0)
This post does not have any comments. Be the first to leave a comment below.
---
Post A Comment
You must be logged in before you can post a comment. Login now.
Featured Product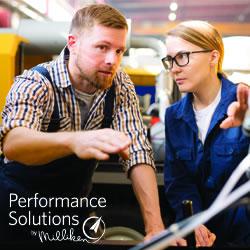 Performance Solutions by Milliken is a dedicated consulting and training group that helps guide businesses toward success. From supply chain, to operations and safety, we're dedicated to developing sustainable results for our clients through the implementation of a holistic operating system. We believe engaging all associates in the process will systematically transform your company to create efficiency, uncover hidden capacity, and generate long-term gains. Are you ready to reinvent your operations and transform your organization? Let's get started.