Stratasys launches new rapid prototyping Engineering-Grade 3D Printing Solution: The F123 Series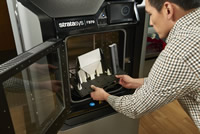 "Today there is a vast market opportunity in product prototyping that we feel is not being addressed by current 3D printing systems. The launch of the Stratasys F123 Series targets these product design workgroups, industrial designers, engineers, students and educators who demand a professional quality rapid prototyping solution that's simple to use, produces reliable, engineering-quality results, integrates perfectly within an office or lab setting, and is affordable to own and operate," said Zehavit Reisin, Vice President, Head of Rapid Prototyping Solutions, Stratasys. "As the company that invented FDM, Stratasys brings a rich pedigree to the F123 Series, providing our customers an optimal balance between usability and high performance." Full Press Release.
Comments (0)
This post does not have any comments. Be the first to leave a comment below.
---
Post A Comment
You must be logged in before you can post a comment. Login now.
Featured Product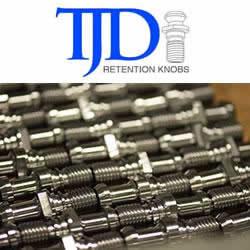 The retention knob or pull stud is a critical component to the tool holder's performance and cutting tool life. T.J. Davies' retention knobs are the highest quality retention knobs on the market. Our retention knobs, also called pull studs, are made in American from American drawn steel. For over 50 years, we have been second to none. We utilize 8620 and 9310 alloy steel for its high tensile strength to withstand strong centrifugal force, high load force, high feed rate, and difficult-to-machine material in the era of current CNC machining environment. As the forces exponentially increase, precision and strength in machining and tooling requires a higher quality of the retention knob or pull stud connecting the spindle to the tool holder.