GE speeds up 3D printing push with bids for SLM, Arcam
Johannes Hellstrom and Maria Sheahan for Reuters: General Electric launched bids on Tuesday to buy two of the world's top makers of machines for metal-based 3D printing - Sweden's Arcam and Germany's SLM Solutions - for a total $1.4 billion to bolster its position in the fast-growing technology.
3D printing has been used to build prototypes for decades but has become more widespread for industrial mass production in recent years, with uses including the production of dental crowns, medical implants and light aircraft parts.
GE has long been one of the main proponents of industrial 3D printing, using it to make fuel nozzles for its new LEAP jet engine in what marked a big step in using the technology in mass production. Cont'd...
Comments (0)
This post does not have any comments. Be the first to leave a comment below.
---
Post A Comment
You must be logged in before you can post a comment. Login now.
Featured Product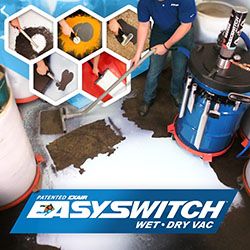 Be sure to attend the latest of EXAIR's webinars. Get educated on pneumatic industrial vacuums so you can break the cycle of replacing electric shop vacuums. Industrial environments often present a continual battle to keep them clean and safe. Unavoidable by-products of manufacturing processes include liquid and solids which often present hazards to personnel, products and processes. Solids may be trim, dusts, or chips from a manufacturing line; liquids may be coolant spills, coating overspray, or even burst packages. Cleaning up these materials often falls on the operators of the equipment who need reliable, adaptable, safe and effective tools for cleanup. Supplying them with tools which fail frequently or do not meet the requirements of the safety team is a recipe for disaster. Attend this webinar to gain an understanding of how pneumatic vacuums can reduce the maintenance, increase reliability, and improve flexibility for your facility. Attend live on May 24th at 2 p.m.