German manufacturers take aim at smart factories, mass customization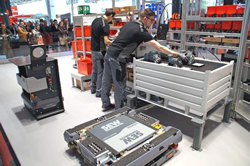 TOMOHISA TAKEI, Nikkei staff writer: It has been five years since Industry 4.0, the fourth industrial revolution, was first unveiled at the Hannover Messe industrial technology trade fair in Germany.
Industry 4.0 was more of a conceptual model at that time. This year, however, the trade show witnessed an emerging trend toward "smart factories" that can provide mass customization.
On April 25, SEW-Eurodrive's booth at Hannover Messe drew crowds of visitors. The German industrial motor maker demonstrated its automated vehicles for next-generation assembly plants, what it calls the "Lean Smart Factory."
In SEW-Eurodrive's demonstration, about 10 such "smart vehicles" moved about as five workers assembled products. One vehicle approached its target worker, displayed a procedure on its screen and instructed the worker to do the assembly work. After the worker completed the task, the vehicle received the product and moved on to another worker in charge of the next process.
These smart vehicles were connected over a network and programmed at the company factory. But it looked as if the products themselves were driving the vehicles and moved to where the tasks needed to be done. SEW-Eurodrive has already introduced the system at its factory in the southwestern German town of Graben-Neudorf, intending to make individually tailored products in the future. Cont'd...
Comments (0)
This post does not have any comments. Be the first to leave a comment below.
---
Post A Comment
You must be logged in before you can post a comment. Login now.
Featured Product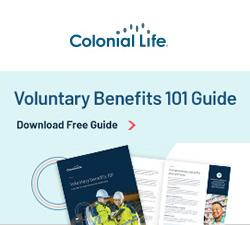 If there was ever a time to add voluntary benefits to your employees' compensation package, this is it. The tight labor market combined with supply chain bottlenecks, continued COVID-19 outbreaks, rising input costs and workforce challenges have helped drive a national trend of record high turnover rates for the manufacturing sector, making it imperative to evaluate compensation and benefits packages to remain competitive. The voluntary benefits 101 guide for manufacturers provides practical information about voluntary benefits without the jargon or complicated details. Download the guide.