Pallet Alliance's IntelliPallet™ platform reduces operating costs with flexible tracking applications
Collaboration involves Semtech's leading LoRa devices and IoT integration services from Viaanix to extend Pallet Alliance's wooden pallet tracking platform
Template-based modules allow for easy scalability, customization to fit complexity of modern logistics facilities
New 10-inch rugged JLT1014P computer provides a cost-effective solution for warehousing and other logistics applications where space is limited, yet reliability and uptime are of utmost importance
Datalogic, a global leader in the automatic data capture and process automation markets, will showcase the newest member of its family of industrial barcode readers, the AV500, on a live conveyor system at MODEX 2020 booth 5227. The AV500 is an innovative image based industrial reader that combines high speed capture, high resolution imaging and innovative illumination into a compact solution. These characteristics make it capable of serving a wide array of applications in transportation and logistics.
Digital Supply Chain Transformation in the Age of Automatic Identification and Data Capture
After 20 Years of Incremental WMS Progress, Softeon Warehouse Execution System Delivers Step-Change Improvements in Distribution Performance
Leading providers from across the globe unite to revolutionize supply chains beginning to end
Partnership with industry-leading global unified IT provider supports ease of access to mobile-enablement solutions that boost supply chain efficiency and productivity
Inspekto debuts its disruptive tech at Modex 2020, before opening in Detroit in March 2020
Experts from Pallet Alliance will be onsite to promote the company's IntelliPalletTM technology, the industry's first IoT-enabled wooden pallet system for greater supply chain & logistics visibility
Records 1 to 11 of 11
Featured Product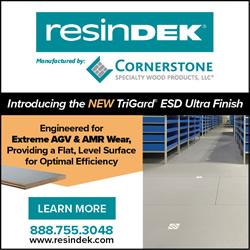 ResinDek flooring panels are designed for elevated platforms such as mezzanines, pick modules, and work platforms. They have the proven structural integrity to support dynamic and static rolling limits from 2,000 to 8,000 lbs. ResinDek flooring panels are available in a multitude of options that are customized for load capacities, required finish type, volume and type of traffic including heavy rolling pallet jack loads and robotic traffic with AGVs and AMRs.