Inspekto debuts its disruptive tech at Modex 2020, before opening in Detroit in March 2020
Inspekto, the inventor of Industrial Autonomous Machine Vision, will showcase the world's first ever vision inspection product, the INSPEKTO S70, at Modex 2020, before opening in Detroit in March.

The show runs between March 9 and 20 at Atlanta's Georgia World Congress Centre. The German-Israeli start-up has experienced exponential growth in the past two years and will be exhibiting for the first time in the United States on booth 4080.
The company's award-winning innovation, the INSPEKTO S70, is the first stand-alone, self-learning, self-setting and self-adjusting product for visual inspection. Powered by the company's patented Plug & Play™ technology, the INSPEKTO S70 is the first integration-free technology, served directly to the shop floor personnel, and merging computer vision, deep learning and real-time software optimisation technologies.
"Our powerful technology allows for unprecedented ease of use, which is crucial for non-experts, and is actually re-inventing industrial vision inspection," explained Harel Boren, CEO and co-founder of Inspekto.
"The INSPEKTO S70 can be installed on an active manufacturing line in 30 to 45 minutes by the people on the shop floor, without the help of machine vision experts or systems integrators, using only 20 to 30 good samples from which the system learns. This achievement is years ahead of any other solution on the market," added Yonatan Hyatt, CTO and co-founder of Inspekto. "The system can inspect any product, produced in any manufacturing environment with any production process."
The INSPEKTO S70 was launched in November 2018 and has since reinvented machine vision for quality assurance, pushing Autonomous Machine Vision's total addressable market (TAM) to $20 billion yearly.
"The global machine vision market is forecast to grow to $15.5 billion by 2024," remarked Zohar Kantor, VP of sales and project management at Inspekto. "However, the complexity of traditional machine vision solutions is constraining the market. The ease of use, cost-effectiveness and flexibility of Autonomous Machine Vision products will allow the market to boom."
Attracting more than 30,000 visitors from 110 countries, Modex 2020 provides the perfect platform for Inspekto to introduce the benefits of Autonomous Machine Vision to a large international audience. Visitors to booth 4080 will have the chance to see and experience first-hand the ground-breaking INSPEKTO S70 product in action and run it through its quick, easy and fun installation process. In addition, the company has created a series of videos of the S70 in action on the production lines of global manufacturing brands, with experiences from world leaders such as Bosch, Daimler, BMW, BSH, Schneider Electric and MAHLE.
"Modex 2020, our first trade show in the US, precedes the opening of our American headquarters in Detroit, which will soon be operational," continued Kantor. "With our American customer base quickly expanding, there could be no better venue to showcase our technology and get American manufacturers excited about the Autonomous Machine Vision revolution."
To join the revolution, visit booth 4080 from March 9 to 12.
About Inspekto: Inspekto is a German industrial company with Israeli DNA. Backed by leading industrial businesses from across the DACH region, the start-up is reshaping the machine vision sector, introducing the first powerful vision inspection product into the new Autonomous Machine Category.
Inspekto Autonomous Machine Vision inspection systems put the machine vision market on a one-way course to reduced Total Cost of Defect (TCoD), replacing existing integrator-centric solutions with ready-to-go, out-of-the-box QA systems in the very hands of the industrial plant QA manager. The systems are driven by Plug & Inspect™, the first integrator-less technology for visual quality inspection and gating and sorting, which eliminates the costly integration and customised developments that characterised traditional machine vision technology.
Featured Product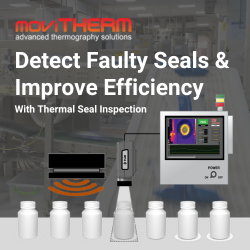 MoviTHERM's Thermal Seal Inspection (TSI) solution provides precise and reliable detection of defects in a variety of packaging types, including pouches, bags, blister packs, bottle caps, and more. By detecting defects in your packages, the TSI solution helps increase efficiency in your production line and ensures top-quality packaging is delivered to your customers every time. With state-of-the-art technology and an experienced team, MoviTHERM is dedicated to delivering accurate inspection solutions and peace of mind to its clients. Contact MoviTHERM today to learn more about their thermal seal inspection solution.