- Essentium HSE 3D Printing Platform in Neumunster and flame-retardant materials certified for train parts - Deutsche Bahn increases fleet availability with easy and fast replacement of parts
Austin, Texas, September 20, 2023 -- Essentium, Inc., a worldwide leader in industrial additive manufacturing (AM), today announced Deutsche Bahn (DB), the national railway company of Germany, has certified the use of Essentium High Speed Extrusion (HSETM) 3D Printing Platform located in Neumunster and high-performance materials for 3D printed train parts and tools. Essentium's 3D printing technology, including flame-retardant Essentium 9085 and HTN-CF25 thermoplastics, has been tested to demonstrate that it complies with the AM Standard ISO/ASTM 52920:2023 and ISO 52920. Essentium's AM solutions will allow DB to increase the availability of its fleet through fast and efficient replacement of parts and tools.

By leveraging Essentium's AM technology, DB aims to overcome supply chain issues and raw materials shortages for obsolete parts. DB maintains a digital warehouse housing virtual technical drawings of spare parts. These parts can be 3D printed on demand, with around 1,000 models currently available. DB aims to raise this to 10,000 components by 2030. The Essentium HSE 3D Printing Platform in Neumunster and materials will help Deutsche Bahn enhance delivery speed and lower costs by creating low-run parts on demand rather than mass manufacturing and storing vast quantities.
Rolling stock applications need to meet high levels of flame retardancy - even higher than in the aerospace industry. Traditional standard thermoplastics have poor mechanical properties and fire performance and are unsuitable for rail applications. Essentium's high-temperature AM materials enable Deutsche Bahn to rapidly produce rail-worthy parts that can withstand 180°C and meet industry standards for reliability, repeatability, and performance.
Said Blake Teipel, Ph.D., CEO of Essentium: "A lot of people still wonder if additive is ready for prime time. Deutsche Bahn, which is 3D printing tens of thousands of replacement parts for its trains, proves it is. We look forward to advancing Deutsche Bahn's AM capabilities to speed repairs and keep its assets operational with minimal downtime. This partnership will pave the way for others in the rail and transport industries to follow."
About Essentium
Essentium, Inc. provides industrial 3D printing solutions that are disrupting traditional manufacturing processes by bringing product strength and production speed together, at scale, with a no-compromise engineering material set. Essentium manufactures and delivers innovative industrial 3D printers and materials, enabling the world's top manufacturers to bridge the gap between 3D printing and machining and embrace the future of additive manufacturing. Essentium, Inc. is AS9100 certified and ITAR registered.
Featured Product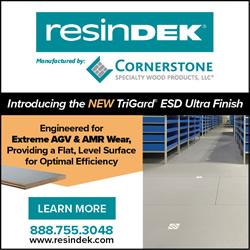 To maximize the productivity of an autonomous mobile robot (AMR) or automatic guided vehicle (AGV) deployment, it's critical to create the optimal environment that allows the vehicles to perform at their peak. For that reason, Cornerstone Specialty Wood Products, LLC® (www.resindek.com) created the TriGard® ESD Ultra finish for its ResinDek® engineered flooring panels. The TriGard ESD Ultra finish is ideal for high-traffic robotic applications characterized by highly repetitive movement patterns and defined travel paths.