International Summit on MES & Industry 4.0: Enabling Digital Transformation and Fuelling Growth
14.09.2023, PORTO, Portugal - During an eventful week, manufacturing experts from across the globe congregated at the Alfândega Congress Center, a unique venue nearby Douro river, for Critical Manufacturing's MES & Industry 4.0 International Summit (MESI 4.0 Summit). This highly anticipated two-day event served as a platform for professionals to exchange valuable insights and knowledge regarding the digital transformation in the manufacturing sector. With attendees hailing from various corners of the world, the MESI 4.0 Summit proved to be an epic gathering of industry leaders, fostering collaboration, and driving innovation in the realm of manufacturing.

The MESI 4.0 Summit was an exemplary event that sought to unlock the vast potential of digital transformation and propel the trajectory of growth. With its focus on the convergence of manufacturing execution systems and the fourth industrial revolution, this summit served as a platform for the dissemination of cutting-edge knowledge and the exploration of innovative strategies. Through the lens of this summit, participants were able to harness the power of digitalization and embrace the paradigm shift that is reshaping the industrial landscape.
"The industry is eagerly embracing the concept of industry 4.0 and demonstrating an insatiable appetite for knowledge regarding the ways in which digital transformation can be leveraged for their benefit. We found great satisfaction in the fact that a multitude of individuals chose to accompany us at this event," said Critical Manufacturing CEO, Francisco Almada Lobo. "Our company specializes in driving business value through the convergence of intelligence, operations, and automation technologies for Industry 4.0. By harnessing these cutting-edge technologies, we help businesses optimize their operations, increase efficiency, and stay ahead in the ever-evolving digital landscape. Our expertise lies in integrating intelligent systems, leveraging data analytics, and implementing automation solutions to streamline processes, improve decision-making, and drive innovation. With our comprehensive approach, businesses can unlock the full potential of Industry 4.0, driving growth, competitiveness, and success in today's fast-paced and interconnected world."
Mário Campolargo, the esteemed Secretary of State for Digitalisation and Administrative Modernisation in Portugal, commenced the two-day affair by eloquently expounding upon Portugal's illustrious digital odyssey and the profound global implications of the renowned Industry 4.0.
Keynote speaker Jeff Winter shared his experiences as Sr. Director of Industry Strategy, Manufacturing for Hitachi Solutions, and Strategic Advisor for IIoT World, "Industry 4.0 has advanced well beyond the buzzword stage. We are seeing real value for sure, but everyone's digital transformation journey is unique. That's why it is so important for the people from the shopfloor to the C-suite to come together in conferences such as this," said Winter.
The majority of the presenters at the summit consisted of MES end users, exemplified by the likes of Michael Kaiser, who holds the position of Lead Smart Manufacturing for B. Braun. Mr. Kaiser's captivating discourse revolved around the topic of "Pretending to be Agile - Implementation of MES in a Regulated Environment."
"We are very excited about what we have been able to accomplish in deploying MES. We enjoyed presenting our experiences to colleagues in medical device manufacturing as well as other industries. We learn so much from each other." said Michael Kaiser.
Vision vs Reality
The symposium had a momentous objective of facilitating users in bridging the Industry 4.0 concept with tangible execution, which was also the focal point of the workshop. Furthermore, there was an 'Expert Lab' segment that exhibited cutting-edge factory automation solutions and granted attendees an immersive virtual reality encounter of traversing a prospective manufacturing facility.
Sponsors
Facilitating the integration of the Manufacturing Execution System (MES) into the revolutionary Industry 4.0 framework, the MESI 4.0 Summit was honored by the presence of prominent sponsors such as HCLTech, Athena, Cognizant, L&T Technology Services, Infosys, Portainer.IO, RedHat, Rovisys, TATA Consultancy Services, FrontWell Solutions, Regenesia and Razorleaf.
About Critical Manufacturing
Critical Manufacturing, leader in the Gartner Magic Quadrant and a subsidiary of ASMPT, provides the most modern, flexible and configurable manufacturing execution system (MES) available. Critical Manufacturing MES helps manufacturers stay ahead of stringent product traceability and compliance requirements, reduce risk with inherent closed-loop quality, integrate seamlessly with enterprise systems and factory automation, and provide deep intelligence and visibility of global production operations.
As a result, our customers are Industry 4.0 ready. They can compete effectively and profitably by easily adapting their operations to changes in demand, opportunity, or requirements, anywhere, at any time. For more information, visit www.criticalmanufacturing.com
About ASMPT
ASMPT (HKEX stock code: 0522) is a leading global supplier of hardware and software solutions for the manufacture of semiconductors and electronics. Headquartered in Singapore, ASMPT's offerings encompass the semiconductor assembly & packaging, and SMT (surface mount technology) industries, ranging from wafer deposition, to the various solutions that organise, assemble and package delicate electronic components into a vast range of end-user devices, which include electronics, mobile communications, computing, automotive, industrial and LED (displays). ASMPT partners with customers very closely, with continuous investment in R&D helping to provide cost-effective, industry-shaping solutions that achieve higher productivity, greater reliability and enhanced quality.
ASMPT is one of the constituent stocks of the Hang Seng Composite MidCap Index under the Hang Seng Composite Size Indexes, the Hang Seng Composite Information Technology Industry Index under Hang Seng Composite Industry Indexes and the Hang Seng HK 35 Index. To learn more about ASMPT, please visit us at www.asmpt.com
Media contact:
Shreyasi Bhaumik
BCM Public Relations Ltd.
+44 203 409 5090
s.bhaumik@bcmpublicrelations.com
Featured Product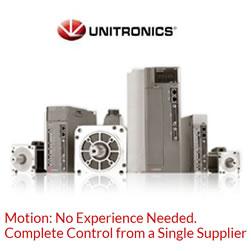 Unitronics' line of AC Servo Drives & Motors changes the traditional approach to motion control. They are simple to set up and painless to program. Unitronics Servos simplify implementation of motion applications while minimizing complexity and reducing development time. Some of the easy-to-use features in this new line include implementing motion control easily with ready-made motion code, embedded diagnostic tools, and automatic communication setup.