Portable System for Metal Forming Combines AI and Robotics for Agile Manufacturing
Machina Labs today announced general availability of the Machina Deployable System, a commercially available portable robotic system that digitally forms and cuts custom composite and metal parts. The Machina Deployable System will make its public debut at FABTECH from September 11-14 in Chicago. Combining the power of artificial intelligence (AI) and robotics with unparalleled portability, the company's Deployable System empowers manufacturers in a wide variety of industries to elevate production capabilities with minimum disruption to facilities.

Machina Labs is now making its unique RoboForming™ technology available as an on-premise, stand-alone option to virtually any manufacturing site or other production facilities — including those with remote locations, such as an aircraft carrier — where it can be installed into an existing environment without significant foundational facility changes and work with any industrial robot. Machina customers already are utilizing the company's unique offering for purposes of tooling, sustainment, research and development, rapid prototyping, and production to rapidly produce large, complex sheet metal parts at the point of use. The Machina Deployable System can form virtually any metal (aluminum, steel, titanium, Inconel, and more) up to thicknesses of ¼ inch and into parts as large as 12 x 5 x 4 feet. If it bends, the Machina Deployable System can form it.
"Machina Labs has a mission to develop manufacturing solutions that give businesses the ability to make changes with ease, and iterate and produce rapidly," said Edward Mehr, CEO and Co-Founder of Machina Labs. "Our portable Deployable System is a game-changer in the manufacturing world. By providing manufacturers with a portable solution that combines flexibility, precision, and speed, we are essentially putting a twenty-first century blacksmith shop in the backyard of any business that wants one."
From small, custom workshops to large-scale manufacturing facilities, the Deployable System redefines the possibilities of on-demand manufacturing, rapid prototyping, and agile hardware development and production. The United States Air Force, for example, is using the Machina Deployable System for maintenance and repair — or sustainment — of older aircraft where suppliers and parts are no longer being fabricated.
The Machina Deployable System consists of a portable platform, two 7-axis robotic arms, tool-changing corral, configurable frame, along with AI-driven process controls. The system can be transported on the back of a truck and can be up and running in a matter of hours on-premise and work with any industrial robot. Questions about price, availability, and training can be directed to https://machinalabs.ai/contact-us.
"Machina Labs' advanced manufacturing platform utilizes our advanced robotic arms in new and innovative ways. Their intelligent process controls and proprietary end-effectors are unlocking cutting-edge manufacturing capabilities never thought possible that we are delighted to support," according to Casey DiBattista, Chief Regional Officer - North America for KUKA Robotics. "We pride ourselves on partnering with forward-thinking companies like Machina Labs that pioneer new ways for automation to impact industry. We are excited to host the debut of the Machina Deployable System at the KUKA booth B27051 during this year's FABTECH."
The Machina Deployable System will be on display for the first time at FABTECH from September 11-14, 2023 in KUKA's booth (B27051). Delivery of the new portable system will start in the fall of 2023. For more information or to request a demo, please visit https://machinalabs.ai/contact-us
Machina Labs CEO Edward Mehr is speaking at FABTECH on September 11 and 13. On September 11, he will discuss "Robotic Sheet Shaping: A Thesis on the Future of Manufacturing" at 2:00 pm CT in Room S501BC. On September 13, Mehr is participating in a panel entitled "Advancing Robotics in the Fabrication Metal Industry" at 12:30 pm CT in the FABTECH Theater.
About KUKA
KUKA is a global automation corporation with sales of around 4 billion euro and around 15,000 employees. The company is headquartered in Augsburg, Germany. As one of the world's leading suppliers of intelligent automation solutions, KUKA offers customers everything they need from a single source. From robots and cells to fully automated systems and their connectivity in markets such as automotive with a focus on e-mobility & battery, electronics, metal & plastic, consumer goods, e-commerce, retail and healthcare.
About Machina Labs
Founded in 2019 by aerospace and automotive industry veterans, Machina Labs is an advanced manufacturing company based in Los Angeles, California. Enabled by advancements in artificial intelligence and robotics, Machina Labs is developing Software-Defined Factories of the Future. The mission of the company is to develop modular manufacturing solutions that can be reconfigured to manufacture new products simply by changing the software. For more information, please visit https://www.machinalabs.ai/.
Featured Product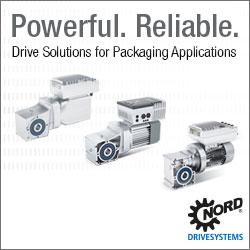 NORD gear units, motors, and electronic control products focus on durability, adaptability, and high efficiency for a wide range of manufacturing applications with over 20,000,000 standard configuration options. Featuring IE5+ PMS motors that can work effectively at partial loads and low speeds thanks to their constant torque and high overload capacity. Their smooth surface and ventilated designs provide ultimate versatility and variant reduction. Combined with surface protection options, such as IP69k or NORD's state-of-the-art nsd tupH Sealed Surface Conversion System, NORD drives are ready to take on the demands of extreme manufacturing environments.