Visit Booth 10651 to learn about NETZSCH pumps designed for the gentle, sanitary product handling, and cleanability requirements of the food and medical products industries
NETZSCH Pumps USA will be attending PACK EXPO International 2023 from September 11th to 13th in Las Vegas, NV. Visit Booth 10651, where NETZSCH is excited to showcase NOTOS® Twin Screw pump, TORNADO® T.Sano® All-Metal Rotary Lobe Pump the NEMO® Progressing Cavity Pump along with the PERIPRO™ Peristaltic Pump. These four technologies are all Positive Displacement and designed for the food industry.

The NOTOS® Sanitary 2NSH Twin Screw Pump is ideal for meeting the requirements of food, beverage, chemical, pharmaceutical and cosmetic industries. Working at both low and high working pressures, the NOTOS® Sanitary 2NSH Twin Screw Pump maintains product integrity and natural properties, without any quality loss. The FDA-compliant pump meets 3-A Sanitary Standards and can be disassembled quickly for easy cleaning with the exclusive Full Service-in-Place (FSIP®) Design.
The PERIPRO™ Peristaltic Pumps are hose pumps with heavy duty construction for demanding applications, with large rollers for longer service life. These pumps are ideal for complex fluids, such as abrasive, corrosive, viscous, and delicate products. Ultimately, these products provide energy savings up to 30% and require 90% less lubricant when compared with shoe technology.
The TORNADO® T.Sano® rotary lobe pump features an all-metal construction that is the optimum solution for sanitary applications due to its oil and dead-space free design that prevents contamination of the media. The self-priming rotary lobe pump continuously and constantly conveys challenging media, including abrasive and aggressive media, as well as adhesive and shear-sensitive substances. The pumps can be cleaned or sterilized in a circular or continuous process without prior disassembly.
The broad product range of NEMO® Progressing Cavity Pumps also includes a selection of sanitary and aseptic pumps for continuous, pressure-stable, gentle and low-pulsation conveyance of almost any substance. The open hoper pumps in full stainless steel are widely used for high consistency fluids like ground beef, whole fruits or fishes.
For more information contact:
Kristin Nugent
McNeil, Gray & Rice Inc.
(617) 367-0100, ext.148
Kristin.nugent@mgr1.com
About NETZSCH Pumps USA
NETZSCH Pumps USA is the US representative of NETZSCH Pumps & Systems which has served markets worldwide for more than 60 years, providing customized, sophisticated solutions for applications in every industry type. Experts in complex fluid handling, NETZSCH supplies NEMO® progressing cavity pumps, TORNADO® rotary lobe pumps, NOTOS® screw pumps, and PERIPRO™ peristaltic pumps as well as N.Mac® twin shaft grinders, macerators, barrel emptying units, metering technology and accessories. With a workforce of more than 2,200, NETZSCH Pumps and Systems is the largest business unit in the NETZSCH Group, with annual sales of more than 380 million Euros.
Featured Product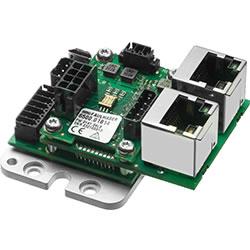 MOTION CONTROLLERS FOR MINIATURE DRIVES AND MICRODRIVES. FAULHABER has added another extremely compact Motion Controller without housing to its product range. The new Motion Controller is ideal for integration in equipment manufacturing and medical technology applications. With 36 V and 3 A (peak current 9 A), it covers the power range up to approx. 100 W and is suitable for DC-motors with encoder, brushless drives or linear motors.