Visit ATI at Booth B31027
The Fabtech show comes to McCormick Place in Chicago, IL, September 11-14. Don't miss this opportunity to get an up-close look at all the latest ATI products and solutions. ATI will showcase a variety of live robotic demonstrations covering a diverse range of applications and industries including:

A live grinding and sanding process will showcase the CGV-900 Compliant Angle Grinder and AOV-10 Robotic Orbital Sander. A FANUC M-10iD/16 robot will be using ATI QC-29 Robotic Tool Changers with an attached large air port module, to switch between the grinding and sanding tools.
In a large cell, ATI will also demonstrate how their Tool Changers are used to automatically switch large end-effectors. A FANUC R-1000iA/80F robot, utilizing ATI QC-210 Heavy Automation Tool Changers, will simulate the joining of automotive B-pillar assemblies by tool changing between an Atlas Copco K-Flow flow drill fastening tool and an Atlas Copco SCA industrial dispensing tool.
Kane Robotics' GRIT-ST automated grinding system will demonstrate how grinding welds can easily be accomplished with ATI's CGV-900 Compliant Angle Grinder, Universal Robots' UR10e cobot, and 3M Abrasives Cubitron II media.
Additionally ATI will display the new MC-50 Manual Tool Changer. With intuitive and ergonomic lever operation, the patent-pending MC-50 provides a simple solution for quickly changing robotic end-of-arm tooling by hand. This compact and robust Tool Changer is designed for applications on collaborative robots that support payloads up to 25 kg and small industrial robots supporting payloads up to 10 kg.
Visit the ATI Team at FABTECH booth B31027 during your visit to learn more about how our innovative end-effector products and solutions can increase robotic flexibility in your application.
Featured Product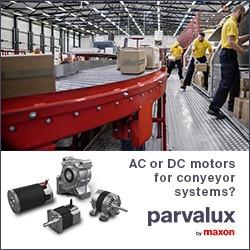 An effective, reliable and efficient drive system is essential to any material handling equipment, whether it's a motor-assisted tow truck, a barrel lifter, a robotic vehicle or a complete high-capacity parcel sorting hub; Parvalux designs and manufactures an exciting range of AC, DC brushless and brushed motors and our drives are valued for their performance and reliability.