Jeffrey Cash, President of Architectural Fabrication, to illustrate how a vision—along with Rootstock Manufacturing ERP—helped fuel 750% growth and boost project capacity by 150%
San Ramon, CA (Aug. 30, 2023) - Rootstock Software, a recognized leader in the Manufacturing Cloud ERP space, is thrilled to announce that its manufacturing customer—Architectural Fabrication—will be featured at FABTECH in Chicago, IL, Sept. 11-14. The company's presentation, "Become the 'Optimus Prime' of Digital Transformation," is scheduled for Wednesday, Sept. 13 at 12:45 pm CT:

https://www.fabtechexpo.com/conference/sessions/45102/f201-empower-adapt-using-the-cloud-platform-to-increase-capacity-and-support-remote-work
"I couldn't be more excited to share our digital transformation journey at FABTECH," said Jeffrey Cash, President of Architectural Fabrication (https://arch-fab.com/arch-fab-appoints-jeff-cash-president/). "The title of our presentation is meant to catch the attention—as well as imagination—of attendees, but I'll be discussing real-world challenges, and the vision and purpose we forged to thrive in an increasingly volatile market. Disconnected systems and data silos were hindering our ability to make real-time decisions. Through the adoption of Rootstock Manufacturing ERP, we achieved powerful enterprise insights, broke through barriers, and scaled our operations, enabling 750% company growth since 2015."
"What distinguishes Architectural Fabrication's approach is not just a focus on data and cutting-edge technology, but also an emphasis on the human element," said Stu Johnson, Vice President of Product Marketing at Rootstock Software. "Jeff knew that empowering his team would be fundamental to his company's success, and he was assured that Rootstock Cloud ERP was agile, so it could be configured to manage, automate, and streamline processes in sync with how his staff operates on a day-to-day basis. With technology and human resources in sync, his company has been able to increase its project capacity by 150%."
Architectural Fabrication also shifted its recruiting efforts to focus on candidate mindset and values, which contributed to increased employee retention during today's tight labor market. Due to its ongoing growth, the company made the Inc. 5000 list of fastest-growing private companies for the past six consecutive years.
Similar to Architectural Fabrication, Rootstock found in its 2023 State of Manufacturing Technology Survey (https://www.rootstock.com/manufacturing-technology-survey/) that many manufacturers (57.8%) are also concerned about being able to access data and performance measures buried in disconnected systems and departmental silos. Manufacturers have expressed a need to connect and collaborate using live data streams or "signals" in order to respond to volatile market conditions. As a result, Rootstock has been using its Cloud ERP to help connect a comprehensive signal chain that gives manufacturers the dynamic insights to balance supply and demand along with production capacity.
If conference attendees are interested in learning more about Rootstock and how its manufacturing Cloud ERP played a role in Architectural Fabrication's success, they can attend Cash's session or visit the Rootstock booth A6417.
To register for FABTECH, visit https://www.fabtechexpo.com.
ABOUT ROOTSTOCK
Rootstock Software (https://www.rootstock.com/) provides the leading Manufacturing Cloud ERP, which empowers hundreds of manufacturers to turbocharge their operations in today's dynamic, post-pandemic world. Natively built on the Salesforce Platform, Rootstock delivers a futureproof solution. With it, manufacturers gain the agility to continually transform their businesses to meet evolving customer needs, navigate emerging challenges, and accelerate success. In addition, the "connectability" of Rootstock Cloud ERP gives manufacturers 360° visibility to collaborate with suppliers, trading partners, and the broader value chain. As Rootstock continues to grow, stay tuned to the company's latest customers, career opportunities, and LinkedIn posts.
Featured Product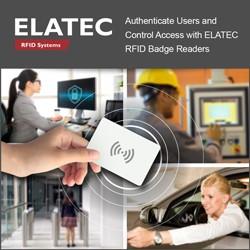 With a tap of the badge, RFID readers from ELATEC provide secure, reliable and easy-to-use user authentication, access control and usage tracking of hardware and software in industrial automation processes. Reader durability in harsh plant floor environments is another essential feature. Choose the right authentication and access control solution and extend RFID card-based capability for the access control of PLC, robot and HMI automation controller software and devices requiring special operator training.