Join Mitsubishi Electric Automation at the Las Vegas Convention Center from September 11th-13th, 2023 for a first look at a 3D Bin Picking robot demo, perfect for automating packaging processes.
Mitsubishi Electric Automation, Inc. will be in attendance in booth #N-10011 at PACK EXPO 2023 demonstrating automation solutions for consumer-packaged goods and life sciences customers and OEMs. In addition to the Factory Automation Wall, showcasing Mitsubishi Electric's complete line of factory automation products, a new 3D Bin Picking robot demo will be presented. Collision avoidance and dynamic path planning from Realtime Robotics with the newly added 3D Vision from SICK, Inc., will show collision management in a 3-robot work cell in this demo.

On Day 2, September 12th at 4 PM in the Central Hall on Stage 3 - (C-2508), Mitsubishi Electric product marketing manager, mechatronics, Patrick Varley, will be presenting on "The Next Evolution of 3D Bin Picking: Multiple Collision-Free Robots." Alongside Matt Somerville from Realtime Robotics and Nick Longworth from SICK, Varley will discuss how the combination of 3D vision for robotic guidance, dynamic path planning, and collision avoidance can work together to increase throughput and reduce the footprint needed to deploy Mitsubishi Electric robots.
"While I always look forward to presenting our robots to existing and potential customers at trade shows, I'm especially excited about PACK EXPO. The 3D bin picking demo debuting at the show is something that we can't wait to show to the attendees: 3 industry leaders, 3-D bin picking and 3 robots" said Patrick Varley, product marketing manager, mechatronics, at Mitsubishi Electric Automation. "It's an exciting time for the robotics industry. The advances in motion control, path planning, and robot vision promise to greatly improve the speed and throughput of logistics operations," said Matt Somerville, director of sales, North America, at Realtime Robotics. "I'm excited for PACK EXPO attendees to see firsthand what the combination of Mitsubishi, SICK, and Realtime technology can do."
Learn more about Mitsubishi Electric Automation and PACK EXPO 2023 at https://us.mitsubishielectric.com/fa/en/news-and-events/2023/september/packexpo2023/
Featured Product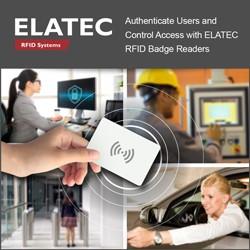 With a tap of the badge, RFID readers from ELATEC provide secure, reliable and easy-to-use user authentication, access control and usage tracking of hardware and software in industrial automation processes. Reader durability in harsh plant floor environments is another essential feature. Choose the right authentication and access control solution and extend RFID card-based capability for the access control of PLC, robot and HMI automation controller software and devices requiring special operator training.