The new building will have assembly and office space totaling over 85,000 sq. ft. and is expected to begin assembling gear units by the end of June 2023.
NORD DRIVESYSTEMS is a global gearmotor and control products manufacturer that has seen exponential growth over the last several years as more companies incorporate automation into their workflow. In 2022, they had a record-breaking year and achieved over $1 Billion in sales for the first time in company history. The U.S. subsidiary of this family-owned German company currently operates out of three separate facilities - Corona, CA, Charlotte, NC, and Waunakee, WI, which also serves as their U.S. corporate headquarters. To meet the increased product demands while maintaining a high level of customer service, NORD is expanding their American operations into the southern state of Texas.

The new facility is located just outside of Dallas in the northeast suburb of McKinney, Texas. It will include both assembly and office space totaling over 85,000 sq. ft. and feature a full staff of production, warehouse, quality, service, customer experience, and administrative personnel. NORD expects to begin assembling unpainted gear units in this location by the end of June 2023 and painted units by the end of Q1 2024 upon completion of paint booth construction. When fully operational, the plant will have the capacity to produce 200 units per shift.
"We're very excited about this new beginning and being able to further service our customers", says Torsten Schultz, President of NORD USA. "The new plant will allow us to increase gear unit production as well as cut down on delivery times to end users in the southern region."
To learn more about NORD and their modular product line of gear units, electric motors, and variable frequency drives, visit https://www.nord.com.
Featured Product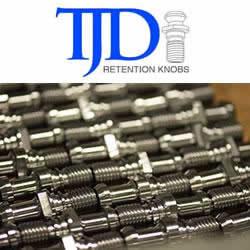 Our retention knobs are manufactured above international standards or to machine builder specifications. Retention knobs are manufactured utilizing AMS-6274/AISI-8620 alloy steel drawn in the United States. Threads are single-pointed on our lathes while manufacturing all other retention knob features to ensure high concentricity. Our process ensures that our threads are balanced (lead in/lead out at 180 degrees.) Each retention knob is carburized (hardened) to 58-62HRC, and case depth is .020-.030. Core hardness 40HRC. Each retention knob is coated utilizing a hot black oxide coating to military specifications. Our retention knobs are 100% covered in black oxide to prevent rust. All retention knob surfaces (not just mating surfaces) have a precision finish of 32 RMA micro or better: ISO grade 6N. Each retention knob is magnetic particle tested and tested at 2.5 times the pulling force of the drawbar. Certifications are maintained for each step in the manufacturing process for traceability.