European packaging manufacturer gains greater scalability, transparency and insight
COPENHAGEN, Denmark - June 6, 2023 - Configit, the global leader in Configuration Lifecycle Management (CLM), today announced that packaging giant Sidel will use Configit Ace® to transform its Configure, Price, Quote (CPQ) process. Configit's CLM technology integrated with CPQ will provide greater scalability, transparency and insight.

Sidel is a leading provider of equipment, services and complete solutions for packaging liquids, foods, home and personal care products. There are over 40,000 Sidel machines in operation daily in more than 190 countries. With all those different machines, the company needed a better approach to its CPQ process.
The company sought to replace its entire CPQ stack, including configuration, pricing and bill of materials (BOM) solving, in a phased approach, because its previous configuration engine could no longer handle the modeling complexity. Sidel chose Configit Ace as its new future-proof platform to improve overall user experience when configuring Sidel machines and to combine valid product combinations into a single source of truth. Configit's partner, Coolshop, will be responsible for the CPQ front-end design, including incorporating pricing.
By using Configit Ace, Sidel will benefit from:
• Increased transparency and insight: With a CPQ alone, there's a significant lack of transparency that can lead to inaccurate revenue projections. Configit Ace allows sales, manufacturing and engineering to align with a single source of truth and ensure Sidel only quotes what can be built based on sales and engineering, creating an aligned product definition.
• Ability to scale: Integrating CPQ with CLM offers the scale required to satisfy dynamic customer requirements and the rising complexity of products - without affecting current customer installations and processes.
Vahe Ter Nikogosyan, CDO, Sidel, said: "Configit Ace will provide clarity and ensure our organization understands the impact of decisions being made when engineering, changing offerings and selling products. CLM provides the insights we need to manage product complexity, deliver what is promised and do so profitably."
Johan Salenstedt, CEO, Configit, said: "When it comes to configuration, there are two common approaches: some companies approach it from a purely sales and marketing-oriented perspective, while others are using a purely engineering-oriented perspective. Our Configit Ace platform has a leg up on standard CPQ as it alleviates the silos and eliminates significant disconnects that organizations can experience in terms of ensuring what is offered to customers is what can actually be provided."
About Configit
Configit is the global leader in Configuration Lifecycle Management (CLM) solutions and a supplier of business-critical software for the configuration of complex products. All Configit products are based on the patented Virtual Tabulation® (VT™) technology, which has redefined product configuration by offering greater speed and better handling of complexity. Virtual Tabulation enables Configit to deliver powerful, easy-to-use configuration solutions to market-leading global enterprises. Website: configit.com
Media Contact:
Diana Diaz
Force4 Technology Communications
diana.diaz@force4.co
Featured Product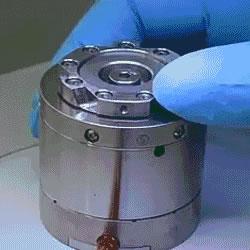 PI provides standard and custom linear, rotary, and spherical air bearing systems. They are available with 3-phase motors or voice coil motors, integral optical linear encoders. Our air bearings / and systems serve OEM, industrial, and research markets.