A composite with thermoplastic matrix, PA12 based and Carbon fibers reinforced, Windform XT 2.0 IMG is the first CRP Technology's injection molding material. It is 100% recycled with no addition of virgin powder from exhausted Windform XT 2.0 for Laser Sintering
CRP Technology launches the Windform XT 2.0 IMG material and initiates a new era in the world of industrial production and sustainability.

Winform XT 2.0 IMG is a high-performance composite material with thermoplastic matrix, PA12 based and Carbon fibers reinforced for injection molding (IMG is the acronym for Injection Molding Grade).
It is 100% recycled from Windform XT 2.0 industrial 3D printing material.
Engineer Franco Cevolini, CEO and Technical Director of CRP Technology, says, "For some time we at CRP Technology have been studying an alternative and total use of those exhausted Windform powders for selective laser sintering, that fallen into disuse as they no longer meet our high quality standards."
The CRP's solution establishes that the exhausted Windform powders are not recycled with the addition of a percentage of virgin material, but they are 100% reused and properly transformed to be suitable for other technologies, which can be both traditional and additive. "In this case - continues Franco Cevolini - we regranulated the Windform XT 2.0 powder cake, and make it suitable for injection molding technology.
The test phase ended with excellent results and now we are ready to sell it to those who manufacture on large volumes basis."
Windform XT 2.0 IMG formulation features premium performances ranking from high stiffness and resistance to shock to extreme details accuracy even with thin thicknesses.
Its excellent properties makes it ideal for demanding application in a variety of industries such as automotive, transport, e-mobility, agriculture, robotics and industrial design.
With the launch on the market of Windform XT 2.0 IMG injection molding material, CRP Technology begins to offer top-of-the-range materials for different technologies, such as injection molding grade, which permit the companies to shorten the supply chain, and save time and money.
Indeed, the high quality injection molded parts in Windform XT 2.0 IMG preserve same performances of prototypes realized in AM with Windform XT 2.0
"Furthermore - Franco Cevolini adds - the companies that use our Windform XT 2.0 IMG for production, limit their carbon footprint as they are employing a 100% recycled material."
Featured Product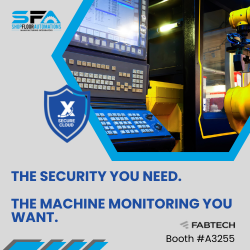 For manufacturers adhering to regulations like International Traffic in Arms (ITAR), Defense Federal Acquisition Regulation Supplement (DFARS) and other security and compliance requirements, the ability to monitor disparate machines, each with a unique control system and communication protocol with varying ages, can make continuous improvement initiatives challenging in the cloud. The Scytec DataXchange solution, available through Shop Floor Automations, resolves these issues by leveraging AWS GovCloud to capture real-time, Industrial Internet of Things (IIoT) data from a variety of equipment - from lasers and press brakes, to saws and robots - through universal machine connections to give teams full transparency on the shop floor through an architected secure cloud solution for a total smart factory transformation.