FlexEdge® Intelligent Edge Automation Platform with HDMI® quickly and effortlessly creates real-time productivity scoreboards
York, Pa. - June 6, 2023 - Red Lion®, a manufacturer of innovative technologies that empowers industrial organizations to access, connect and visualize their data, introduces FlexEdge® Intelligent Edge Automation Platform with HDMI®. As industries around the world digitalize their operation, the need to securely access and visualize data to power their performance in real-time is crucial. FlexEdge with HDMI, powered by Crimson®, is designed with user-friendly configuration capabilities to easily develop and deploy customized dashboards to keep production teams informed of critical KPIs, helping to drive efficiency, and enabling real-time, actionable insights.

"Adding the HDMI feature to FlexEdge is complementary to the already powerful and secure Edge platform," said Courtney Peel, Product Manager, Access, at Red Lion. "Even in the most efficient manufacturing or process environment, the ability to empower operators on the plant floor with real-time data visualization, boosts productivity."
Access and Visualize Your Data
FlexEdge with HDMI, powered by Crimson, gives you easier, more powerful ways to access and visualize your data:
• Directly collect data from devices such as PLCs, drives, bar code scanners and more. Map data to PLCs, PCs and SCADA systems with a simple no-code drag-and-drop interface, allow a Siemens® PLC to communicate with an Allen Bradley® drive in mere seconds.
• Use the built-in graphics library, with over 5,000 drag-and-drop elements to visually represent your application, including tanks, gauges and other industrial graphics choices.
• Sync your data to FTP servers and MS SQL Server to send information where it needs to go.
• Set up alerts for important events using the built-in mail manager, which sends notifications to one or more specified recipients via email, with attached report or logged data files.
• Use the built-in Cloud Connectors to link your productivity application data to one or multiple cloud providers, including Azure, AWS, Google or other MQTT brokers.
FlexEdge with HDMI also makes it easier to develop and deploy productivity dashboards with included sample productivity templates. You can choose from up to six commonly used templates available as demo databases in Crimson.
Sample productivity templates include:
• Cumulative Work Cell Status
• Process Status
• Andon Board
• Production Run
• Safety
• Line Down Warning
Visit redlion.net/Flexedge to learn more about the Red Lion FlexEdge with HDMI and view model specifications. For more information about Red Lion, visit www.redlion.net.
About Red Lion
For over 50 years, Red Lion has strived to be THE Industrial Data Company™. The company empowers industrial organizations around the world to unlock the value of data by developing and manufacturing innovative solutions to access, connect and visualize their information. Red Lion products make it easy for companies to gain real-time data visibility that drives productivity.
Red Lion is part of Spectris plc, the experts in providing insight through precision measurement. For more information, please visit www.redlion.net.
©2023 Red Lion Controls, Inc. All rights reserved. Red Lion, the Red Lion logo, FlexEdge, Crimson, THE Industrial Data Company are trademarks of Red Lion Controls, Inc. All other company and product names are trademarks of their respective owners. The terms HDMI, HDMI High-Definition Multimedia Interface, and the HDMI Logo are trademarks or registered trademarks of HDMI Licensing Administrator, Inc.
Featured Product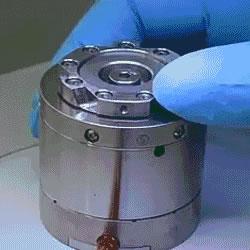 PI provides standard and custom linear, rotary, and spherical air bearing systems. They are available with 3-phase motors or voice coil motors, integral optical linear encoders. Our air bearings / and systems serve OEM, industrial, and research markets.