TPM's new Additive Manufacturing Lab in Greenville will serve as a regional demonstration and part production center
TPM, a regional powerhouse in design and manufacturing solutions, today proudly unveils its innovative Additive Manufacturing Lab, a cutting-edge facility based in Greenville, SC. This state-of-the-art lab will serve as a regional demonstration center for industry-leading additive and 3D printing technology and provide outsourced 3D printed parts for the Southeast, underscoring TPM's unwavering dedication to fueling growth within the regional manufacturing sector.

Equipped with state-of-the-art technologies from globally recognized manufacturers, including Markforged, HP, 3D Systems, Artec 3D, and AMT, TPM's new lab promises precision and quality. These resources position TPM to deliver exceptional services that embody efficiency and superior quality to its clientele.
"Launching this newly renovated and enhanced additive lab is a key step as TPM accelerates growth in the manufacturing industry across the Southeastern region, providing the latest technology solutions to our clients." expressed Chris Fay, President of TPM. The lab's launch signifies a critical moment for the region's manufacturing prowess. It provides local manufacturing firms with tools to innovate faster, cut costs, and expedite time-to-market for their products.
The Additive Manufacturing Lab comes to fruition in response to the burgeoning demand for 3D printing in the manufacturing industry. TPM's venture into this sphere reaffirms the company's faith in the transformative potential of additive manufacturing and its capacity to shape the trajectory of future production.
This momentous announcement arrives at a critical juncture when manufacturers are actively exploring innovative avenues to refine their processes, bolster product quality, and maintain a competitive edge in a fast-paced, evolving marketplace.
As TPM eagerly anticipates the possibilities this new lab will usher in, the company reaffirms its commitment to nurturing an ecosystem of innovation and growth for its valued partners.
For more details about the TPM Additive Manufacturing Lab or to schedule a visit, please explore TPM's website at TPM.com.
About TPM
TPM is dedicated to guiding manufacturing organizations through the journey of digital transformation by applying the latest software, hardware, and services, enabling people to maximize their potential, positioning companies for growth, and improving engineering processes.
Featured Product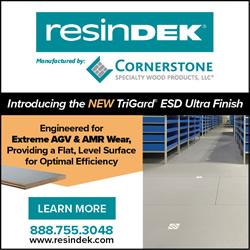 To maximize the productivity of an autonomous mobile robot (AMR) or automatic guided vehicle (AGV) deployment, it's critical to create the optimal environment that allows the vehicles to perform at their peak. For that reason, Cornerstone Specialty Wood Products, LLC® (www.resindek.com) created the TriGard® ESD Ultra finish for its ResinDek® engineered flooring panels. The TriGard ESD Ultra finish is ideal for high-traffic robotic applications characterized by highly repetitive movement patterns and defined travel paths.