NAI, a leading designer and manufacturer of custom interconnect solutions which deliver power and signals to monitor data, connect people and keep equipment operating, will participate as an exhibitor at Automate 2023. The company will display its products at Booth #447.
The NAI exhibit will include a video presentation of the company's capabilities by displaying sample interconnect products, including cable assemblies, harnesses, panel, and box builds. In addition, a second video presents an overview of the company and includes scenes from its manufacturing plants, which are strategically located around the globe.

NAI specializes in designing and manufacturing interconnect solutions to support applications in industrial technologies, such as robotics, warehouse automation, industrial equipment, and machinery, and IIoT. They are fully capable of handling Low Volume / High Mix orders, as well as High Volume / Low Mix orders.
Automate 2023 is sponsored by A3: the Association for Advancing Automation and is being held at the Huntington Place Convention Center in Detroit from May 22 to May 25. A3 states Automate is the leading automation showcase in North America with over 750 exhibitors, 200 speakers and 25,000 registrants.
For more information, visit NAI at http://www.nai-group.com/.
About NAI
NAI is the most resourceful interconnect solutions provider customers count on to solve design, manufacturing, and logistics problems. Offering copper and fiber optic cable assemblies and harnesses, coupled with block assemblies, panel and box builds, NAI
provides an unparalleled breadth of capability. Being remarkably scalable, flexible, and agile, NAI customer projects are brought to life very quickly, while meeting or exceeding expectations and delivering high reliability.
NAI strives for high integrity with customer relationships by providing notable transparency and delivering on promises. Product and market diversity, an extraordinary talent base and an ability to supply globally are distinct characteristics of NAI.
Only NAI provides this unique combination of company attributes, distinguishing them as the most reliable supplier of interconnect product solutions and expert service.
Featured Product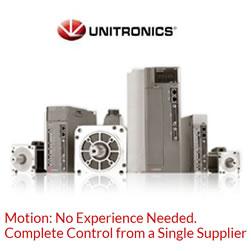 Unitronics' line of AC Servo Drives & Motors changes the traditional approach to motion control. They are simple to set up and painless to program. Unitronics Servos simplify implementation of motion applications while minimizing complexity and reducing development time. Some of the easy-to-use features in this new line include implementing motion control easily with ready-made motion code, embedded diagnostic tools, and automatic communication setup.