Our cutting-edge automation solutions in booth 1049 at Automate put connectivity and seamless integration center stage while highlighting how Omron empowers people through automation.
Industry-leading automation solution provider Omron Automation Americas will offer an integrated, intelligent, and interactive experience at Automate 2023. The automation tradeshow and conference will take place from May 22-25th, 2023 at Huntington Place in Detroit, MI.

Omron Showcases Integrated, Intelligent, and Interactive Automation Solutions at Automate 2023
Omron Showcases Integrated, Intelligent, and Interactive Automation Solutions at Automate 2023
Omron will highlight their latest solutions, including the Sysmac platform, SCARA and mobile robot technology, and advanced machine vision. Attendees will have the opportunity to speak with Omron experts about innovative technologies that optimize efficiency, increase productivity, and enhance flexibility for manufacturing processes in the food and commodity, automotive, electronics, and life science industries.
"We are excited to participate in Automate and connect with existing and future customers," said Jeff Hall, Vice President of Global Strategic Sales; Omron Automation Americas. "Our participation in this event allows us to not only highlight our global strategy but also demonstrate how we can assist our customers in optimizing their manufacturing processes for greater efficiency and success."
Demonstrations include:
Sysmac Studio and the new NX502 controller simplifies programming, simulation, and monitoring on the Sysmac Platform.
Robotics Integrated Controller (RIC) featuring an i4H SCARA robot using an integrated FH vision system to precisely pick parts from a part feeder.
Using patented new technology, the new handheld barcode reader can automatically adjust to read even the most difficult direct part marked barcodes.
In addition to the Omron booth, Omron Certified System Integrator, RAMP Inc., will display autonomous handling solutions using Omron's versatile mobile robot technology at booth 903 during the event. Visitors can also stop by the Omron booth to obtain a comprehensive list of our channel partners and system integrators exhibiting at the event.
Industry professionals are encouraged to reserve meetings with Omron experts. Please book your meetings by emailing Krissy Sorensen at krissy.sorensen@omron.com.
About Omron Automation Americas
Omron Automation is an industrial automation partner that creates, sells, and services fully integrated automation solutions that include sensing, control, safety, vision, motion, robotics, and more. Established in 1933, Omron's 30,000 employees help businesses solve problems with creativity in more than 110 countries. Learn more at automation.omron.com.
Featured Product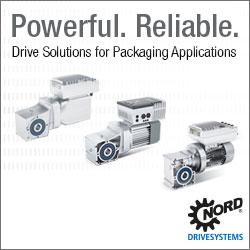 NORD gear units, motors, and electronic control products focus on durability, adaptability, and high efficiency for a wide range of manufacturing applications with over 20,000,000 standard configuration options. Featuring IE5+ PMS motors that can work effectively at partial loads and low speeds thanks to their constant torque and high overload capacity. Their smooth surface and ventilated designs provide ultimate versatility and variant reduction. Combined with surface protection options, such as IP69k or NORD's state-of-the-art nsd tupH Sealed Surface Conversion System, NORD drives are ready to take on the demands of extreme manufacturing environments.