New AUX-400-RINSE Serves as a Safer Alternative to IPA Rinse
Buffalo, NY, USA, May 2, 2023 - PostProcess Technologies, the leading provider of automated and intelligent post-processing solutions for 3D printed parts, is pleased to announce its release of AUX-400-RINSE, a new rinse solution developed as an improved alternative to the isopropyl alcohol (IPA) rinse step in the additive manufacturing resin removal workflow.

As part of a full-stack automated solution which includes PostProcess software, hardware and chemistry, AUX-400-RINSE solution was formulated for resin-based applications wherever IPA has historically been used as a final rinse for 3D printed parts in combination with a drying step. With the addition of AUX-400-RINSE, PostProcess customers are now able to implement an IPA-free workflow for processing their resin parts.
The groundbreaking solution offers several benefits over traditional IPA including a higher flashpoint temperature approximately twice that of IPA, making it less hazardous and reducing the risk of injury or damage to property and equipment during use. Furthermore, using AUX-400-RINSE as an alternative to IPA for rinsing parts can reduce employee health risks from inhalation of IPA fumes, a known irritant in work environments. The lower evaporative loss of the solution compared to IPA also makes it a more cost-effective solution, as it lasts longer.
Formulated using 90% green chemicals, AUX-400-RINSE ultimately improves the environmental impact over IPA. Customers are already experiencing the benefits of this new rinse solution.
"At Quickparts, as a long-time leader in on-demand manufacturing services, we pride ourselves on being at the forefront of cutting-edge additive processes, technologies and materials. Therefore we were pleased to participate in the trial use of PostProcess' new AUX-400-RINSE solution," said Tracy Beard, Director of Operations at Quickparts. "After performing numerous trials comparing the overall performance of AUX-400-RINSE to that of IPA rinse, we can say with confidence that we could effectively replace IPA rinse with AUX-400-RINSE in our standard workflow using the PostProcess DEMI 4000 for resin removal."
"We are thrilled to introduce AUX-400-RINSE to our customers as an improved, safer alternative to IPA rinse in their resin removal workflow," said Matthew Noble, Director of Chemistry at PostProcess. "We are dedicated to creating solutions that improve safety and efficiency for our customers, and AUX-400-RINSE is another example of that commitment."
PostProcess is exhibiting at RAPID + TCT May 2-4, 2023 in Chicago. For more information about AUX-400-RINSE, please visit PostProcess at booth 2232, or visit www.postprocess.com/aux-400-rinse
About PostProcess:
PostProcess is the leader in automated and intelligent post-printing solutions for 3D printed and additive manufactured parts. Founded in 2014 and headquartered in Buffalo, NY, USA, with international operations in Mougins, France, PostProcess removes the bottleneck in the final stage of the 3D printing workflow, post-processing, through a combination of patent-pending software, hardware, and chemistry technologies. The company's solutions automate industrial 3D printing's most common post-printing processes including support, resin, and powder removal, as well as surface finishing, enabling customer-ready 3D printed parts at scale and complete digitization of additive manufacturing through the workflow for the Industry 4.0 factory floor. The PostProcess portfolio has been proven across all major industrial 3D printing technologies and is in use daily in every imaginable manufacturing sector. www.postprocess.com
Featured Product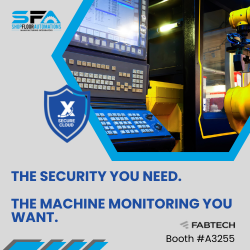 For manufacturers adhering to regulations like International Traffic in Arms (ITAR), Defense Federal Acquisition Regulation Supplement (DFARS) and other security and compliance requirements, the ability to monitor disparate machines, each with a unique control system and communication protocol with varying ages, can make continuous improvement initiatives challenging in the cloud. The Scytec DataXchange solution, available through Shop Floor Automations, resolves these issues by leveraging AWS GovCloud to capture real-time, Industrial Internet of Things (IIoT) data from a variety of equipment - from lasers and press brakes, to saws and robots - through universal machine connections to give teams full transparency on the shop floor through an architected secure cloud solution for a total smart factory transformation.