The new Field Calibration IncOder offers both optical encoder accuracy and inductive robustness, enabling precise measurements in the most challenging environments
Celera Motion, a business unit of Novanta Inc., today announced the introduction of the Field Calibration IncOder®, a groundbreaking new absolute inductive encoder solution that achieves next-level accuracy angle measurement in motion control applications and position feedback in robotics in the most demanding environments.

The Field Calibration IncOder is designed for applications that need precise angle measurements but in conditions not suited for optical encoders: dusty, dirty and wet environments, or in conditions where high shocks and vibrations are common.
"Our new Field Calibration IncOder provides the best of both worlds: the superior accuracy of optical encoders with the robustness of our inductive IncOder series," said Swapnil Mane, Vice President of Product Management and Marketing at Celera Motion. "And it achieves all of this in a low-profile, inductive sensor package. By enabling customers to store calibration data within IncOder after installation, a gearshift in accuracy performance is made possible."
The Field Calibration IncOder optimizes the performance of the inductive sensing method, enabling maximum accuracy performance (up to 10 arcseconds) combined with high environmental integrity. It is ideal for wherever ultra-high accuracy is required, providing more precise measurements for a range of applications. They include field robotics, camera gimbals, SATCOM, advanced manufacturing, surveillance and off-highway vehicles.
Among the benefits and features of the Field Calibration IncOder:
The ability to calibrate the encoder in-situ, enabling the highest accuracy position measurement possible
A low-profile form factor and large bore, making it compact, lightweight and easy to install
Rugged construction that's resistant to dust, dirt, oil, water and other contaminants, allowing it to operate in more extreme environments
The ability to generate calibration tables and store calibration data within the on-board electronics of the IncOder — by communicating with it through a bespoke serial interface
Multiple size and mounting formats, providing more flexibility in designs
A duplex mechanical format that provides electrical redundancy, enabling systems to meet higher safety levels
The ability to operate reliably with high shocks and vibrations, with immunity to external magnetic fields as well.
The Field Calibration IncOder is available in Mini and Midi IncOder sizes (37-300mm). Each sensor is fully configurable in terms of mounting format, connection/cable, supply voltage, single turn and multiturn outputs, extended options and digital protocol options, including BiSS-C, SSI, SPI, ABZ and Asynchronous serial outputs.
Customers can purchase the Field Calibration IncOder by talking with the Celera Motion sales team. To learn more, visit www.celeramotion.com.
About Celera Motion
Celera Motion, headquartered in Bedford, Mass., is a market-leading provider of motion control components and subsystems for OEMs serving a variety of medical and advanced industrial markets. Celera Motion offers precision encoders, motors and customized mechatronic solutions that help customers solve challenging motion control problems. For more information, visit www.celeramotion.com.
About Novanta
Novanta is a trusted technology partner to OEMs in the medical and advanced industrial technology markets, with deep proprietary expertise in photonics, vision and precision motion technologies. For more information, visit www.novanta.com.
Featured Product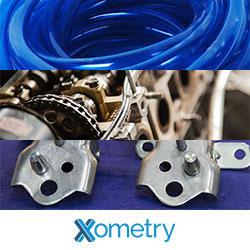 Xometry is your source for custom parts. Now, in addition to getting instant quotes on 3D Printing, CNC Machining, Sheet Metal, and Injection Molding, customers can create and send RFQs for die casting, stamping, and extrusion work to our nationwide network of pre-vetted manufacturers with just a 2D drawing. You will receive and be able to review responses from qualified shops within 7 days on an advanced web-based RFQ management platform. To learn more go directly to our site to issue and RFQ today. Stop wasting time managing RFQs through email and by phone, and start issuing RFQs at scale and in the cloud.