Intelligent Measuring Technology for Use in Safety Equipment
Beverly, MA: KROHNE, a world-leading manufacturer and supplier of solutions in industrial process instrumentation, announces its new IFC 400 electromagnetic flow converter. This product combines with Krohne's OPTIFLUX 4000 to create the OPTIFLUX 4400 electromagnetic flowmeter, providing a reliable and accurate measuring device that lasts years.

The IFC 400 helps detect external influences such as excessive vibration, temperature extremes, and magnetic field effects, and also detects process influences like chemicals and excessive sedimentation in the liquid.
To detect these influences, the IFC 400 has a self-diagnostic function covering three aspects: process conditions, device functioning, and out-of-spec testing. The process measurement check detects leakages, contamination, liner deformation, and air entrainment in the process liquid. The device function self-check continuously monitors electronics and sensor hardware. Out-of-spec testing detects any sudden unexplained flow changes, linearity issues, and uncertain measurements.
The IFC 400 comes in two versions, a compact version (IFC 400 C) and field mounted version (IFC 400 F). Both versions feature aluminum housing, which can either be wall-mounted or rack-mounted. The product has the extensive diagnostics needed for advanced requirements, such as NE 107, and also has ATEX and IECEx certifications.
This 4-wire product provides a variety of outputs. It has 4…20 mA analog outputs. Its discrete outputs include frequency, pulse, and status. Its digital outputs include the HARTā"‡7 protocol. When combined with Krohne's OPTIFLUX 4000 flow sensor, the products form the SIL2/3 certified OPTIFLUX 4400 electromagnetic flowmeter, ideal for safety instrumented systems (SIS) and applications that require high accuracy.
Contact us for special pricing information at info@krohne.com.
About KROHNE
KROHNE is a worldwide technological leader in the development, manufacture, and distribution of accurate, reliable, and cost-effective measuring instruments for the process industries. KROHNE focuses on forming partnerships with its customers to provide them with the most reliable and innovative solutions available in the marketplace. For more information about KROHNE's complete line of measuring instrumentation for the process industries, contact KROHNE at 1-800-FLOWING (978-535-6060 in MA); fax: (978) 535-1720, email: info@KROHNE.com, Twitter, Facebook, or visit www.us.krohne.com.
Featured Product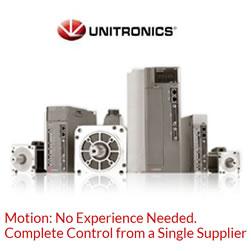 Unitronics' line of AC Servo Drives & Motors changes the traditional approach to motion control. They are simple to set up and painless to program. Unitronics Servos simplify implementation of motion applications while minimizing complexity and reducing development time. Some of the easy-to-use features in this new line include implementing motion control easily with ready-made motion code, embedded diagnostic tools, and automatic communication setup.