Drawing on its years of experience in smart manufacturing, AUO Corporation holds the AUO Smart Expo 2023 to showcase smart sustainable solutions for smart manufacturing, net-zero carbon emissions, and green energy, and to support businesses in leveraging digital technology to plan for sustainable opportunities and enhance industrial competitiveness.
With a solid foundation in display technology, AUO Corporation (AUO) continues to build a highly flexible, digitalized smart manufacturing model that incorporates 5G and AIoT; and is committed to being a solution provider that extends technological innovations across applications in diverse domains. At the AUO Smart Expo 2023, AUO showcases "Sustainable Smart Manufacturing and AIoT Convergence" as its leading theme, presenting smart sustainable solutions for smart manufacturing, net-zero emissions, and green energy. By leveraging digital empowerment, AUO assists companies in strategizing sustainable business opportunities and strengthening their industrial competitiveness.

Facing the transitions of the industrial environment, climate change, and the global trend for net-zero emissions, companies are simultaneously driven to accelerate their digital and sustainable transformation. With its base firmly in smart manufacturing, AUO invests in digital transformation to implement ESG and sustainable development, aligning with its biaxial transformation strategy to convert its own successful transformation experience into smart sustainable service solutions to provide externally. In terms of its solutions: AUO Digitech improves production the capacity and yield through its outstanding automation, smartification, and AIoT human-machine collaboration; with the advancement of digital transformation and sustainable smart manufacturing, AUO Envirotech green sustainable solutions rises through the trend of data integration and net-zero emissions; and with AUO Energy Business's long-term work in green power and expansion of the renewable energy utilization, AUO Corporation leads the wave of digital transformation for enterprises through group synergy, and gradually implements the new blue ocean strategy of carbon reduction and net-zero emissions, in response to the global renewable energy initiative RE100, and thereby achieve the 2050 net-zero transformation goal.
AUO Digitech, Advocate of Digital Transformation, Empowering over 700 Companies to Build Smart Manufacturing Resilience through AIoT:
In the Industry 4.0 trend, smart manufacturing is the key for enterprises to strengthen their competitiveness and move from scale-based competition to value-based competition. Ever since AUO launched its smart manufacturing in 2015, and reaching significant strides in 2020, it successively gained recognition from such institutions as the World Economic Forum's (WEF) Global Lighthouse Network, the Manufacturing Leadership Awards (MLA) of the Manufacturing Leadership Council, and the ROI-EFESO Industry 4.0 Award. AUO Digitech, continuing from AUO group's accumulated years of experience in smart manufacturing, has created a full range software and hardware solution for smart sustainability, smart carriage, smart inspection, and smart IoT to address industrial needs and pain points. With abundant innovation and R&D capabilities, AUO Digitech actively expands applications into diverse vertical fields and collaborates with ecosystem partners to expand influence, empowering more than 700 enterprises and leading the trend of smart factory transformation.
In order to alleviate the impacts of the pandemic and labor shortages caused by the aging population, and respond to other challenges under the rising demand for industrial automation, AUO Digitech uses IoT, AI, big data, and visual recognition technology, combined with automated guided vehicles (AGV) and autonomous mobile robots (AMR), in its human-machine collaborative Automatic Material Handling System (iAMHS), which has helped semiconductor assembly and testing companies in Taiwan to raise their production efficiency by 15%, meeting with the current manufacturing trend of small-scale and diversified product mix in accelerating the completion of line changeovers, making production line planning flexible. In addition, it has also developed energy-saving management solutions in partnership with PCB substrate manufacturers. By analyzing the energy consumption of high-energy-consuming equipment and optimal parameters through AI models, electricity consumption has decreased by 2 to 5%, resulting in industrial resilience in the ecosystem.
AUO Envirotech, a Sustainability Solution Specialist, Enhances Carbon Inventory Efficiency by 50% for Energy-Consuming Industries:
Sustainability is built on resilience, achieving net-zero emissions while optimizing production efficiency and yield through digital assistance is crucial for maintaining industrial competitiveness. As a specialist in sustainable solutions, AUO Envirotech integrates and delivers carbon management, water treatment, and smart control technologies based on its profound experience in factory operations. It provides carbon emission management, water resources management, energy-saving technology, and recycling services, which have enabled AUO Envirotech to achieve a 76% growth in its operational targets within three years, seizing the business opportunities toward net zero.
AUO Envirotech incorporates big data databases into manufacturing sites, introduces a high-intelligence AI management system, applies its self-developed carbon management platform "ACA Carbon Agent", conducts carbon emissions data inventory, and provides "net-zero building solutions". Using the smart building management platform for environmental data collection, it assists manufacturers in improving carbon inventory efficiency by 50% through digitally assisted emissions source identification management, analysis, and calculation. It also collaborates with semiconductor wafer manufacturers to effectively divert the wastewater during the manufacturing process for optimized water treatment. It uses chemical and physical energy to hydrolyze and destroy organic sludge, thereby reducing waste and achieving 50% in energy savings compared to traditional equipment, fully realizing the circular economy trend and effective recycling and outlining a path for businesses to achieve net-zero carbon emissions.
Green Power Enters Daily Life - AUO Energy Business Builds Solar Power Plants in Rushing toward 500MW Capacity:
Decarbonization of power generation and the electrification of life have become trends in reducing net-zero emissions, which is why improving the independence and diversification of renewable energy is also crucial. With its abundance of experience in planning and technological advantages, AUO has expanded its solar power plants to more than 410 power plants, including those in government agencies, public buildings, schools, flood detention ponds, industrial plants, science parks, and animal husbandry facilities throughout Taiwan. In particular, its rooftop solar power system is accounted for nearly 200MW in capacity, achieving the largest rooftop capacity in Taiwan. Its installed solar power capacity is expected to exceed 500MW by 2023, ranking AUO among Taiwan's top five solar EPC companies.
Concurrently, benefiting from the improvements in digital transformation, AUO Energy Business has also introduced AI data management into AUO's energy storage system to assist in power grid regulation, including at TPC's Fengshan Dormitory and Taichung City Government's smart community. With data-based energy management monitoring and water and electricity supply regulation, the community is utilized for a suitable and efficient energy management model. Through software and hardware integration solutions, AUO assists its partners in the supply chain in diversified procurement and planning, and implements its online/offline Omni-Channel, aiming to create excellent energy efficiency for its customers to benefit society through sunlight.
AUO is committed to driving innovation, digital transformation, and cross-domain integration while actively expanding its layout in non-panel field applications. AUO is focused on sustainable thinking to enable digital transformation and ESG-based sustainable development to advance in parallel, thereby providing comprehensive smart sustainable solutions. With its strong backing for long-term sustainable smart manufacturing, AUO is prepared for the challenges of the future and is eager to collaborate with ecosystem partners to create new opportunities for a sustainable future.
Featured Product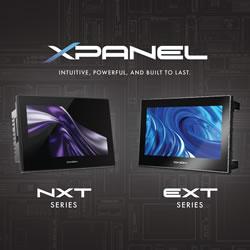 Introducing the Xpanel eXT and nXT series, advanced industrial HMI solutions that set a new standard for performance and usability. Utilizing our brand new Canvas HMI software for project creation, the Xpanel eXT and nXT series deliver a seamless and efficient user experience. They combine industrial-grade touch technology, powerful embedded OS hardware with a quad-core CPU, and an easy-to-use runtime platform. The Xpanel eXT and nXT series are specifically designed to optimize and streamline industrial operations, enhancing your HMI experience.