Essentium Parts On Demand (EPOD) unlocks access to innovative AM technologies to boost speed, scale, and cost-efficiency for parts production
Austin, Texas, March 21, 2023 -- Essentium, Inc., a worldwide leader in industrial additive manufacturing (AM), today announced the launch of Essentium Parts On-Demand (EPOD,) an in-house production service grounded in its High Speed Extrusion (HSETM) 3D printing technology. The service offers manufacturers access to Essentium's engineering expertise and open AM ecosystem of solutions for fast and cost-effective production of parts at scale.

The prospect of an economic downturn makes companies more cautious about overextending themselves as they face potential revenue declines. However, while CFOs are rethinking capital expenditure, demand for parts continues to rise. The EPOD service offers customers the benefits of HSE printing and access to Essentium's entire ecosystem without increasing capital expenditure. With EPOD, customers can use Essentium's engineering-grade filaments and employ EPOD's "polymer-to-part" services to make parts from custom filaments formulated and made in-house.
Early customers of the EPOD services are already experiencing benefits. One oil and gas industry customer used HSE printing capability and capacity to print PEEK parts, while an Aviation Technical Operations industry customer utilized the polymer-to-part solution to produce 100+ housings made of a custom material with flame resistant properties.
The EPOD service operates nine HSE 3D printers and plans to expand to 15+ by the end of 2024. The faster printing speeds of HSE printers lead to significant cost advantages for customers compared to other machines. Results from a market survey of 40+ part production shops worldwide showed that EPOD provides cost benefits for 100% of the geometries and materials surveyed, setting it apart from 13 other industrial extrusion-based service providers.
Joe Anguiano has been appointed as the sales director of EPOD to drive growth and customer satisfaction. Before his current role, Joe held senior sales positions within the AM industry.
Said Joe Anguiano, Sales Director of EPOD: "Ongoing economic and geopolitical turmoil is taking its toll on manufacturers, who have been forced to delay capital expenditure and seek alternative means to procure parts. EPOD services will allow manufacturers to use the HSE platform, including high-performance materials, to produce parts at the right economics without capital investment. Educating new users on AM will also be critical to help them make the leap from prototyping to industrial-scale production. It's a win-win for manufacturers and the AM industry."
About Essentium, Inc.
Essentium, Inc. provides industrial 3D printing solutions that are disrupting traditional manufacturing processes by bringing product strength and production speed together, at scale, with a no-compromise engineering material set. Essentium manufactures and delivers innovative industrial 3D printers and materials, enabling the world's top manufacturers to bridge the gap between 3D printing and machining and embrace the future of additive manufacturing. Essentium, Inc. is AS9100 certified and ITAR registered.
Featured Product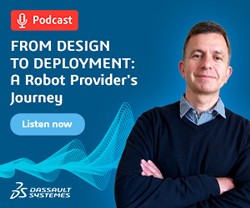 Let's listen to Arvind Krishnan, industry analyst at Lifecycle Insights and Michael Mayr, Industrial Equipment Sales Strategy Expert at Dassault Systèmes. They will discuss the robot industry and how startups can succeed in this market.