Habasit's new sphere top conveyor belt facilitates high-performance, controlled multi-directional movement of goods in logistics, parcel- and unit-handling facilities
Conveyor specialist Habasit has launched the HabasitLINK® M2483 Sphere Top 1" plastic modular belt to offer the courier express and parcel (CEP) market new possibilities in multi-directional movement of goods on conveyors. It allows facilities to move goods across conveyor belts in all directions, including differently to a belt's conveying path, in a controlled manner. The launch comes at a time when volumes in logistics, parcel- and unit-handling facilities continue to grow and provides facilities with a new conveying solution that offers greater automation and reduces labor requirements.

Habasit's new HabasitLINK® M2483 Sphere Top 1" plastic modular belt is a compelling solution for the controlled, multi-directional movement of goods on conveyor belts, even if different from the belt's conveying direction. It also facilities the rotary movement of goods, further increasing directional movement possibilities. The belt is particularly suitable for logistics and parcel handling applications where goods are accelerated, sorted, diverted, merged, turned, accumulated, or re-spaced - whether small or large, packed or unpacked.
"The new sphere top belt provides facility managers with increased flexibility at a time where the CEP industry is under increased pressure to process more parcels than ever," explained Anders Nilsson, portfolio manager at Habasit. "By using different combinations of fabric belts, speeds, and directions, the load can be held in place, moved forwards, backwards, sideways, or diagonally, or even rotated as needed.
"Furthermore, the rotating sphere balls can target almost any angle allowed by the conveying system, making it easier to handle packed goods during automated add-on applications like printing, scanning, or rejection after inspection," concluded Nilsson.
The HabasitLINK® M2483 Sphere Top 1" plastic modular belt's design has been optimized to have a long service lifetime, reducing total cost of ownership. For example, it has steel rod floaters that stop dust and grease build up around the spheres, so their pivoting action is unhindered and their functionality is secured.
Habasit offers expert R&D engineering support to its customers, including in-system designs, and provides detailed engineering guidelines with solutions for common applications. For full consultancy on your application, or to find out more about Habasit's latest products, visit www.habasit.com.
Featured Product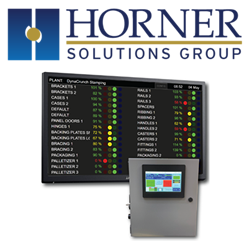 Horner Solutions Group offers a pre-programmed solution that is fast and easy to implement. No development on the user end, just a simple setup on the touchscreen and you can start monitoring and collecting data in minutes. With the ever-growing need for production data in the industry, we wanted to help bridge the gap for many production companies to be able to start collecting accurate and functional OEE (Overall Equipment Effectiveness) data within just a few minutes of setup, as opposed to the weeks/months many companies spend developing their own solution from scratch. For any customers that may have a need outside of the typical product mold, we also offer engineering services for custom hardware and software solutions of various types.