The partnership enables Kardex Solutions customers to rapidly integrate and deploy AutoStore technology.
SVT Robotics, a leading enterprise software provider for the rapid integration of industrial robotics, and Kardex Solutions, a leading Global Business Partner of AutoStore™ and intralogistics solution provider of automated storage, retrieval, and material handling systems, today announced a strategic partnership. The partnership now enables Kardex Solutions customers to easily deploy and integrate AutoStore systems with additional automation technology by leveraging the power of the SVT Robotics SOFTBOT® Platform.

Building upon its Kardex Control Center WES technology, Kardex Solutions has connected its software to the SOFTBOT Platform to enable a complete end-to-end pick and pack solution. Through this partnership, Kardex Solutions customers can quickly integrate and deploy an AutoStore system and Kardex Control Center with other warehouse functions, such as a WMS.
"Agility is one of the greatest advantages that companies can leverage. When it comes to automation, it's imperative that businesses can quickly deploy supply chain technologies as well as reconfigure them to meet their evolving needs," said A.K. Schultz, CEO of SVT Robotics. "We're excited to partner with Kardex Solutions to offer their customers a simple and effective method for rapid automation adoption."
"By coupling Kardex Control Center with the SOFTBOT Platform, we're able to provide our customers with a true 'easy button' approach to automation," said Mitch Hayes, President of Kardex Solutions. "What we've done is eliminate the complexities around warehouse automation by creating a pathway for AutoStore systems to easily integrate with technologies commonly found in distribution centers. We're proud to offer this complete solution to our customers."
About SVT Robotics
SVT Robotics is an enterprise software company that's revolutionizing robot deployments in the warehousing and manufacturing industries. SVT's tech-agnostic, low-code SOFTBOT Platform enables companies to integrate robots, automation, IoT technology, or human productivity tools for any task in just days or weeks. Learn more and join the revolution at svtrobotics.com. Follow us on Twitter, Facebook, and LinkedIn.
About Kardex Solutions
Kardex Solutions is part of the Kardex Group, which is a leading intralogistics solution provider of automated storage, retrieval, and material handling systems and an AutoStore Global Business Partner. The Kardex mission is to provide solutions and services to increase the efficiency in storing and handling of goods and materials on a global scale.
Kardex Solutions employs 2,000 team members across 30 countries and has installed over 140,000 industry-specific solutions worldwide. Learn more about Kardex at Kardex.com and follow on LinkedIn.
Featured Product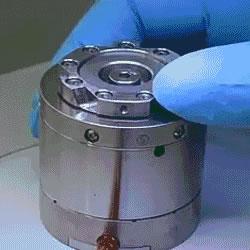 PI provides standard and custom linear, rotary, and spherical air bearing systems. They are available with 3-phase motors or voice coil motors, integral optical linear encoders. Our air bearings / and systems serve OEM, industrial, and research markets.