Successful Manufacturers Using Rootstock Cloud ERP on the Salesforce Platform Offer Insights to Navigate Supply Chain, Regulatory, and Economic Uncertainties
San Ramon, CA (March 15, 2023) - Rootstock Software, provider of the #1 Manufacturing ERP on the Salesforce Platform, today announced it will be hosting a webinar, "Surviving and Thriving in 2023: Insights from the Big Players in Cannabis," on March 29, 10:00 am PDT (1:00 pm EDT). Register here:

https://clouderp.rootstock.com/surviving-thriving-in-2023-insights-from-the-big-players-in-cannabis
It's no secret that cannabis manufacturers are struggling to manage their various growers, quality of strain types, and production capacity. They need an industrial-strength ERP solution to optimally enable their business strategy—whether it's to utilize new growers, introduce new products, or keep pace with the ever-changing regulatory environment.
Raj Badarinath, Chief Marketing and Product Officer at Rootstock Software, will moderate this discussion with the following cannabis industry panelists:
• Abe Satten, ERP Application Manager at Kiva Brands
• Mike Flannagan, Director of Business Development at Ladd Partners
"Today, the cannabis industry is at an inflection point with massive consolidation, supply chain inefficiency, legal ambiguity, and economic uncertainty," said Badarinath. "This webinar is designed to provide insights on how cannabis industry professionals can leverage technology in their seed-to-sale operations to address some of these issues."
Cannabis companies have many of the same FDA requirements as food, drug, or medical device companies, as well as needing to adhere to METRC track-and-trace requirements. Each state has its own mandate to track the cannabis supply chain from seed to sale. Ultimately, regulating agencies want to know whether cannabis is turned into a medicinal product, an edible, or waste as part of the manufacturing process. Cloud ERP can help with these issues.
"Cannabis companies want a cloud ERP that's both flexible and mature enough to meet all their requirements and still support their competitive positioning. In addition, the solution must be able to connect the digital signals from growers, dispensaries, and regulatory bodies—all on one platform to empower enterprise-wide visibility, traceability, and control," added Badarinath.
Rootstock's experienced panel will discuss strategies to optimize supply, automate processes, reduce costs, and maintain quality while adapting to ever-changing regulatory requirements. Whether you are a grower, processor, packager, or distributor, this webinar can offer the insights you need to maintain momentum in 2023. Other topics include:
• Inventory management
• Payments and financials
• Margins and profitability
• Reducing the cost of compliance
• Normalization of cannabis business
• Regulation (Safe Banking Act)
About Rootstock
At Rootstock Software (https://www.rootstock.com), our connected Manufacturing Cloud ERP enables hundreds of manufacturers, distributors, and supply chain organizations to turbocharge their operations in a dynamic, post-pandemic world. With our solution natively built on the Salesforce Platform, our customers leverage the industry's leading Cloud ERP, Rootstock, to connect with their suppliers, trading partners, and the broader ecosystem.
Ranked as a leader in the ERP Value Matrix by industry analysts, Rootstock has vertical expertise in discrete manufacturing, medical devices and high-tech verticals. Rootstock team members partner with customers as trusted advisors in driving change and transformation to what's next.
We continue to grow, so stay tuned to our new customers (https://www.rootstock.com/customers), career opportunities (https://rootstock-software.breezy.hr), and LinkedIn posts (https://www.linkedin.com/company/rootstock-software).
Featured Product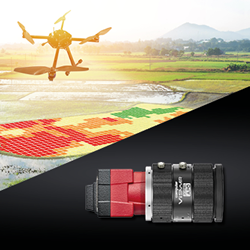 Allied Vision's compact and light weight Alvium SWIR (short wave infrared) cameras are the ideal choice to build cost-effective OEM systems used in embedded and machine vision applications. The cameras support a spectral range from 400 nm to 1700 nm at high quantum efficiencies. This allows to capture images in both the visible and SWIR spectra with a single camera and enables users to reduce overall system costs! Equipped with Sony's IMX990 and IMX991 SenSWIR InGaAs sensors, Alvium SWIR cameras deliver high image quality and frame rates. This makes them well suited for drones or handheld devices used in various industries such as, agriculture, mining, solar cell inspection or medical.