This unique, powerful handheld tool uses ultrasound to assess air-tightness and identify, and quantify air leakage sites in manufacturing rooms or compartments
Saelig Company, Inc. has introduced the Portascanner® AIRTIGHT - a unique, powerful, handheld tool designed to ensure that a room, compartment, or building is sufficiently airtight. It uses ultrasound to detect, identify, and quantify air leakage sites. The Portascanner® AIRTIGHT kit consists of a handheld, portable, battery-powered 7" touchscreen tablet, a highly directional, sensitive sensor wand for precise and accurate location of leak sites, and an ultrasonic generator that creates a powerful ultrasonic signal to fill or target a room or compartment with ultrasonic waves to identify any leaks. The generator features a variable output power for greater versatility in a variety of situations. A headphone set plus a tripod and adjustable clamp complete the kit to facilitate using the generator anywhere in the test space. The tablet features a built-in 8Mpxl camera to allow users to record the location of any leaks found. This kit enables regular and speedy checking of facilities for any air leaks in order to comply with relevant standards, or for quality control purposes.

Determining air-tightness has environmental, cost savings, and occupant health benefits, and is used in facilitating effective and efficient ventilation, filtration, and heating of buildings. Many processes in laboratories, pharmaceutical, biological, or food environments require the highest levels of hygiene, with a clear segregation of areas. In order to maintain a cleanroom environment it is essential to be able to locate and measure the physical size of leaks and to estimate their potential air flow rates and air permeability. Keeping semiconductor clean rooms airtight is essential for ensuring manufacturing yields. Clean room integrity can often be compromised at human entry points. A good overall air-tightness is insufficient: if a small but significant amount of airflow is concentrated in one area, that can also be problematic. Airtightness is also not a constant, changing over time as a result of thermal and physical stress, as well as other factors. Leak issues can vary due to temperature or pressure differences, so the potential air flow that can occur under the worst-case conditions should be a relevant criterion.
Conventional room integrity testing only provides limited information about a space, providing only the overall leakage rate with poor location or quantification of leaks. These test methods are costly, non-specific, and highly disruptive, sometimes requiring the removal of a door to be replaced with a sealed fan to pressurize the completely evacuated room. But using the Portascanner AIRTIGHT, operators can quickly, precisely, and reliably pinpoint the exact location of any leak sites and quantify their magnitude, with no requirement to alter or vacate the room.
The frequent and periodic testing for air tightness and room integrity in a non-pressurized environment, will assure you absolute certainty of a pass, when the air pressure test for airtightness is conducted. The cost savings in passing the air pressure test, be it the Door Fan Blower Test or the Pulse Test, first time and every time are significant.
In a retrofit program, or where a pressure test has been failed, the instrument can be used to rapidly locate and measure and quantify the air flow rate through each leak site, so that an overall air permeability value can be instantly displayed.
The Portascanner AIRTIGHT is a world-first instrument that can:
Quickly, non-disruptively, and accurately identify leak sites
Measure and quantify leak cross-sectional area under varying conditions
Determine the air flow rate through each leak under any range of conditions
Calculate the space's overall air permeability
Store photographic and quantitative data for generating traceable, exportable reports.
Made in UK by ultrasonics specialists Coltraco Ultrasonics, the compact Portascanner AIRTIGHT comes in a handy, sturdy carry case. It is the easiest way to non-disruptively identify and quantify leak sites. It is available now from now from Saelig Company, Inc. Fairport NY their authorized USA technical distributor. For detailed specifications, free technical assistance, or additional information, please contact Saelig 1-888-7SAELIG.
Featured Product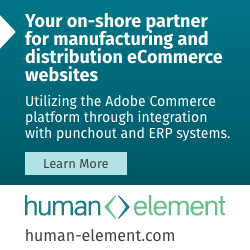 With Human Element, you will build a strategic partnership with experienced on-shore strategists and developers who understand the pain points unique to manufacturers and distributors. Using Agile methodologies and proven eCommerce website development strategies, our team positions clients for success.