It is tailored to the customer's individual requirements in the key application spaces: build preparation, AM digitalization, connectivity and quality assurance.
Lübeck, Germany - November 16, 2022. Metal additive manufacturing company SLM Solutions ("SLM Solutions," "SLM" or the "Company") presents its new software partner ecosystem. Comprised of the key software players in the additive manufacturing market, it enables to complement its innovative in-house software portfolio to deliver the most comprehensive End-to-End additive manufacturing software solution set in the market. It is tailored to the customer's individual requirements in the key application spaces: build preparation, AM digitalization, connectivity and quality assurance.

Nicolas Lemaire Software Product Manager of SLM Solutions explains: "This new software partner ecosystem - based on SLM Solutions open architecture - offers our customers the broadest and most compelling joint software portfolio to industrialize and take their AM operations to the next level, while overcoming key business challenges along the entire process chain. "
Build Preparation for all specific needs
Materialise is one of SLM Solutions key historical partner almost since the foundation of SLM. Materialise software Magics is the most proven build preparation software available for SLM Solutions products, both for industrial customers and as a basis for material development. Nicolas adds: "However, there is no one build preparation software that meets all requirements, each solution has its own merits. Thanks to our new partner ecosystem, customers can now choose the most appropriate build preparation software on the market that is best suited to the specifics of their application, and use it to design build job on their SLM® machine.
Digitalization of Additive Manufacturing
Digitalization of the manufacturing processes and supply chains are on the rise in the additive manufacturing industry and key asset for Industry 4.0. In this context, manufactures are seeking for solutions to produce parts on-demand and remotely to reduce inventory costs and lead times.
One key requirement in doing so is the strong protection of the intellectual property of the part designs and a full traceability in the digital end-to-end manufacturing chain. "SLM Solutions and its key partners, well established in the encryption market, offer its customers out-of-the-box solutions to achieve these goals, when implementing such distributed manufacturing models," explains Nicolas.
Machine Connectivity - On to road to Industry 4.0
One of the supreme disciplines on the road to Industry 4.0 is the machine connectivity and the integration of the additive manufacturing operations into broader processes. This is required to scale up production, maximize process efficiency and reduce waste and operating costs. SLM Solutions used its open architecture to partner with key Manufacturing Execution System (MES) and Internet of Things (IoT) solution providers in additive manufacturing space. SLM Solutions customers will then be able to implement such solutions into their SLM® process to streamline and enhance production processes through automation, integration and full visibility on the additive manufacturing process.
Not only are SLM Solutions and Materialise partners in build preparation, but the two companies are now also collaborating on connectivity and secure digitalization as part of SLM Solutions' new Software Partner Ecosystem. "Materialise is proud to take the next step in the partnership with SLM. Welcoming SLM to the Materialise CO-AM ecosystem will empower innovators to take their AM operations to the next level, protecting build files, enforcing production rules, and enabling end-to-end data traceability," shares Vishal Singh, Senior Director of CO-AM. "Together, Materialise and SLM will deliver scalable and secure workflows for serial production and distributed manufacturing to our current and future customer base."
Another new partner in this field is Oqton, a software provider helping manufacturers increase innovation and efficiency by intelligently automating production. SLM Solutions and Oqton enter into a strategic partnership to increase productivity, shorten lead times, reduce costs and give complete traceability to Industrial Additive Manufacturing customers.
Roy Sterenthal, VP Industrial Additive, Oqton explains: "The partnership between Oqton and SLM Solutions will allow our mutual customers to access and optimize AM workflows in one place, bringing an end to fragmented workflows. Customers will be well-equipped to meet the growing need for highly complex parts and serial production in Industrial Additive Manufacturing. Oqton's excellent solutions for SLM machines, including our Manufacturing OS for order management and planning, optimized AI/ML and simulation-based build preparation, will enable customers to streamline successful and certified workflows and ensure traceability."
Quality first
Quality assurance is a must for serial production. SLM Solutions offers its in-house, ready-to-use quality assurance software aimed to optimize process qualification and part validation activities: SLM.Quality. The software enables easy evaluation of the build job process data through standard dashboards and full documentation of the build process thanks to a friendly reporting tool.
SLM Solutions also partners with leading quality assurance software companies to enable customers to go beyond and perform extended quality control through even more powerful dashboards, combining different evaluation technologies like industrial X-ray Computed Tomography with 3D visualization and automatic part and process defect detection through machine learning and artificial intelligence technologies. This further accelerates process and part qualification while strengthening the overall quality assurance process.
About SLM Solutions
SLM Solutions is a global provider of integrated metal additive manufacturing solutions. Leading the industry since its inception, it continues to drive the future of metal AM in every major industry with its customers' long-term success at its core. SLM Solutions is home to the world's fastest metal additive manufacturing machines boasting up to 12 lasers and enabling build rates of up to 1000ccm/h. With a portfolio of systems to suit every customer's needs, along with its team of experts closely collaborating at every stage of the process, SLM Solutions leads the way on return on investment with maximum efficiency, productivity, and profitability. SLM Solutions believes that additive manufacturing is the future of manufacturing and has the desire and capability to take its customers there - right now.
SLM Solutions is a publicly-traded Company headquartered in Germany, with offices in Canada, China, France, India, Italy, Japan, Singapore, South Korea, and the United States.
Further information is available on www.slm-solutions.com
Featured Product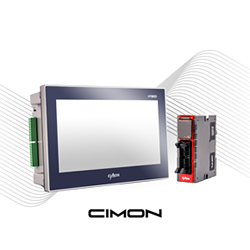 CIMON-XPANEL is a Windows CE based HMI unit. A combination of software and hardware, suitable for various monitoring needs within industrial sites.