Leading machine tool manufacturer to unveil the industry's newest cobotic welding technology at the show.
SEPTEMBER 29, 2022; HARRISON, OH; USA - We're living in a digital world, and CINCINNATI® Incorporated (CI) puts digital innovation on full display at FABTECH 2022 (November 8-10, Atlanta, GA). Attendees can visit CI in booth B7909 in Hall B of the Georgia World Congress Center, to explore some of the latest metal fabricating equipment and software solutions - including the industry's newest cobotic welding technology. Additionally, CI service representatives will be available to discuss the company's aftermarket options including training, machine upgrades, and more.

Marketing Manager, Nikki Stenzel explained that the event offers a unique opportunity to witness CI's integrated design to part manufacturing environment.
"With its extensive collection of fabricators, machinery, software, and service providers, FABTECH is North America's premier metal fabrication event. And we're excited to show the industry what CINCINNATI is all about," said Stenzel. "Attendees will have an opportunity to see our Encompass by CI software suite followed by bending and welding demonstrations as we take a part from 3D design through all phases of manufacturing. Needless to say, anyone looking to enhance shop floor efficiency through automation should make it a point to see what CINCINNATI has to offer."
Encompass by CI Software
CINCINNATI's Encompass software is dedicated to helping operators tackle projects with greater speed and quality. And today, using digital twins, one moves from the digital part to the physical part accurately and efficiently.
The Encompass by CINCINNATI suite includes:
● Design: From 3D models, accurately import geometry and identify the correct flat blank.
● Nest: Amplify your ability to nest your laser parts with software automation and create optimized machine code to make your Cincinnati laser (and most other lasers) operate at top performance.
● Bend: Supercharge your offline press brake programming with advanced software automation.
● Schedule: Take the stress out of scheduling by automatically scheduling multiple jobs across multiple shifts and multiple CI lasers.
● Automate: Advanced software for robot-tended press brake bending cells. Feature-rich simulation capability ensures collision-free solutions and the generation of efficient programs for both the robot and the press brake.
● Analyze: Get real-time and historical insight into the productivity of all your CI machines anywhere, from any device with CIberDash.
Press Brake
Nobody does press brakes like CINCINNATI, and our Autoform line combines precision forming with leading-edge features and control technology. The 60-ton Autoform+ with 6-Axis backgage provides all the benefits of a hydraulic press brake in a smaller footprint and will be our featured press brake at the show.
Cobotic Welding
FABTECH attendees will be among the first to experience the industry's newest cobotic welding technology. A cobot, or collaborative robot, is a robot intended for direct human-robot interaction within a shared space. Simple to use and easy to program, the CINCINNATI Cobotic Welding cell is the first of its kind for TIG welding. With a working range of 2400 mm x 1200 mm (approx. 4' x 8') the automated system is suitable for large or small production batches. The cell is compact, easily repositioned, and contains advanced adjustable safety devices including the continuous robot elbow monitoring.
About CINCINNATI, Incorporated
Cincinnati Incorporated (CI) is a U.S.-based, build-to-order machine tool manufacturer with over 120 years in the industry. Our engineering and manufacturing expertise makes us the ideal partner for companies building innovative products that demand extraordinary durability, stability, and industry-leading features. At our state-of-the-art, Ohio-based facility, we develop and build custom software, dependable laser cutting systems and automation equipment as well as metal fabrication equipment, including press brakes, shears, and PM presses. Our extensive knowledge puts us in a unique position to help you drive efficiency in your manufacturing process no matter how simple or complex.
For more information visit www.e-ci.com.
Featured Product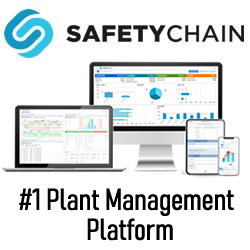 SafetyChain is the #1 Plant Management Platform that improves yield, maximizes productivity, and ensures compliance for process manufacturers. Trusted by over 1,500 facilities, SafetyChain is the only enterprise solution uniting production, quality, safety, and supplier management.