Crane Technology and Ergonomic Lifting Solutions help customers protect their people, productivity, and profits
Fishers, NY: Gorbel® announces that they will showcase their industry leading overhead cranes and lifting systems at the International Technology Manufacturing Show at Booth # 237280 from September 12-17, 2022 at McCormick Place in Chicago, IL. Attendees will learn how Gorbel's cranes and lifting devices transform material handling by enhancing productivity, profitability, and safety.

Gorbel's booth will feature a free standing work station crane, a G-Force® Intelligent Lifting Device, a GS Series Electric Chain Hoist, an Easy Arm® Intelligent Lifting Arm, and their new tractor drive. Visitors to the booth will be able to have a hands-on demonstration of different Gorbel® lifting devices to see which one might be the best fit for their application.
"We're excited to be back at IMTS. Manufacturing has evolved so much these past few years and the challenges our customers are facing today are different from what they were at the last IMTS show, " says Rob Beightol, Director of Marketing. "We're looking forward to talking with the folks that come to our booth, and listening and learning so we can help them find solutions to what's slowing them down today."
About Gorbel®:
Gorbel® Inc. is a leader in Overhead and Warehouse solutions. Since 1977, Gorbel® has been dedicated to providing high quality solutions to protect customers' critical investments - people, products, and profits. Our comprehensive line of cranes, lifting devices, ergonomic conveying systems, and fall protection anchors are designed to keep companies moving, safely and efficiently. "We Improve People's Lives" is the cornerstone of Gorbel® mission - and we are committed to providing our customers with the highest quality products and service to do just that.
Featured Product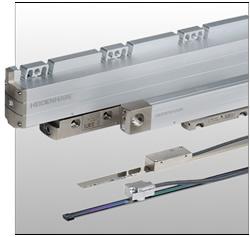 Nothing beats the positioning accuracy of linear encoders from HEIDENHAIN. Available in absolute and incremental versions and ideal for a variety of applications-including machine tools, semiconductor machines and medical machines-these measuring solutions combat a variety of issues that erode precision.