A VDC Research whitepaper on behalf of ProGlove examines the wearable barcode scanner market; confirms wearable solutions offer increased agility across warehouse workflows, improved worker productivity, and enhanced overall worker satisfaction.
CHICAGO and MUNICH - A VDC Research Whitepaper concludes that substantial productivity gains have been realized by organizations investing in wearable scanning solutions and estimates that the global investment into wearable barcode scanning will increase by 27 percent in 2022. The study points out that organizations are voicing a need for better barcode readability and accuracy. These key drivers become increasingly visible in scan-intensive workflows, evident in larger operations with 50,000 stock-keeping units. The whitepaper "Benefits of Hands-Free Flexibility" was drafted on behalf of ProGlove.

Research Confirms Productivity Gains from Wearable Scanning
Wearable barcode scanners leverage their benefits in activities such as picking, packing, shipping, or stock counting. VDC Research confirms the agility, improved productivity, and enhanced worker satisfaction as some of the most important benefits of wearable barcode scanners. Key average improvements include order fulfillment speed 32.3 percent, order fulfillment accuracy 30.9 percent, returns management 29.9 percent, receiving operations 28.3 percent and picking & packing accuracy 27.2 percent.
Investment in Industrial Wearable Scanning Solutions to Increase 27% in 2022
The VDC Research study revealed that the success of these solutions is motivating existing adopters and their peers to increase investments in wearable scanning solutions - across all form factors - by 27% in 2022. Hardware performance, network and software configurations and the ease of use are the three top considerations organizations need to assess when investing in wearable barcode scanning, the study points out. The whitepaper can be downloaded free of charge at: https://www.proglove.com/benefits-of-hands-free-flexibility-in-scanning-workflows/
About ProGlove
ProGlove is a World Economic Forum Technology Pioneer and builds the smallest, lightest, and toughest barcode scanners in the world. ProGlove's industrial wearables connect the shopfloor worker to the Internet of Things. The wearables combined with ProGlove's industry analytics software platform promote human-machine collaboration and drive the digitization across the shopfloor. ProGlove's customers include some of the most iconic global industrial brands, pioneers and innovators in manufacturing and production, logistics and warehousing, retail and e-commerce, and post and parcel. Founded in 2014, the company employs more than 300 people from over 30 countries with offices in Chicago (US), Coventry (UK) Munich (Germany), and Belgrade (Serbia). Learn more at www.proglove.com.
Note to editors about the study: VDC Research, a leading independent research authority covering AIDC and data collection technologies, surveyed 175 operations technology decision-makers supporting warehouse workflows across multiple industries that have implemented and or evaluated wearable scanning solutions to support their operations.
Featured Product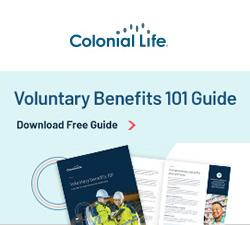 If there was ever a time to add voluntary benefits to your employees' compensation package, this is it. The tight labor market combined with supply chain bottlenecks, continued COVID-19 outbreaks, rising input costs and workforce challenges have helped drive a national trend of record high turnover rates for the manufacturing sector, making it imperative to evaluate compensation and benefits packages to remain competitive. The voluntary benefits 101 guide for manufacturers provides practical information about voluntary benefits without the jargon or complicated details. Download the guide.