Wait list' created; inventory expansion imminent~
Madison, Connecticut, USA - August 24, 2022 - The Wire Association International (WAI), Inc., host of the biennial Interwire trade exposition and conference, reports that the 80,000 sq. ft. of available exhibition space is currently fully contracted compelling the organizer to pursue expansion to accommodate additional exhibitors.

The event is slated to run May 9-11, 2023 at the Georgia World Congress Center, Atlanta, GA, USA.
WAI established a 'wait list' and will assign booths as space allows to accommodate the continuing influx of requests for exhibit space.
Commenting on the process, WAI Sales Director Shannon Timme said "It's clear 2023 will be a great year for Interwire. With the current strength of the industry, the reemergence of industry fairs, and energy focused on trade events, new and returning Interwire exhibitors were quick to book their exhibit space. We want to accommodate every company that submits a request to exhibit."
Exhibitors who are interested in contracting booth space for Interwire should contact sales@wirenet.org for their renewal code or visit https://www.interwire23.com/exhibitor-information/become-an-exhibitor and submit their contract.
Developing details are shown on the event website: www.Interwire23.com.
The Wire Association International is a not-for-profit association with 1,800 individual members in 50 countries. The association serves the educational needs of the wire and cable manufacturing industry through a variety of products and services. WAI manages the Interwire Trade Exposition and the WAI Operations Summit & Wire Expo and publishes the Wire Journal International and the Wire Journal International Reference Guide.
Featured Product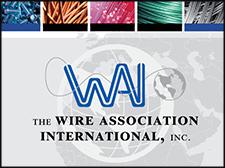 The Wire Association International (WAI), Inc., founded in 1930, is a worldwide technical society for wire and cable industry professionals. Based in Madison, Connecticut, USA, WAI collects and shares technical, manufacturing, and general business information to the ferrous, nonferrous, electrical, fiber optic, and fastener segments of the wire and cable industry. WAI hosts trade expositions, technical conferences, and educational programs.