The Combination of Ivanti Neurons for IIoT and Velocity Enables Supply Chain Operators to Easily Automate and Solve Bottlenecks in Business Processes and Keep Warehouse Operations Moving Smoothly
Ivanti Wavelink, the supply chain business unit of Ivanti, today announced the combination of Ivanti Neurons for IIoT and Velocity for Business Process Automation to enhance worker productivity by automating common warehouse tasks to resolve operational inefficiencies.

With the complexity of warehouse operations and the ever-increasing demands placed on supply chains, common warehouse issues such as damaged goods or bad barcodes can lead to unnecessary downtime and disrupt operations. The combination of Ivanti Neurons for IIoT and Velocity provides a scalable solution and enables supply chain operators to easily identify, record and resolve exceptions in business processes and keep warehouse operations moving smoothly.
For example, damaged items in the warehouse can distract workers from primary tasks as they try to find the correct way to report these events - often this process requires institutional knowledge, accessing another application, or completing a form on paper. By embedding these processes within Ivanti Velocity, where millions of material handlers spend the majority of their day, operators will be able to quickly submit a report including a photograph and any other relevant data. The automation engine in Ivanti Neurons for IIoT can notify the appropriate department to rectify the problem and track the report to completion. Business Process Automation benefits:
Keep workers focused on their main tasks - Maintaining the desired productivity
Workers can fill out forms on mobile devices - no paper forms or switching applications
Protect investments in existing technology, no changes to host systems and can be used with existing processes
Keep warehouse operations running smoothly by quickly notifying fix agents to correct the problem
No new software required on the device
No changes to host
"Ivanti Wavelink's Business Process Automation enables a more efficient way to handle common warehouse issues and opens the door for further process automation in the warehouse," said Brandon Black, senior vice president and general manager, Ivanti Wavelink. "The combination of the Q2 2022 releases of Velocity and Ivanti Neurons for IIoT will help streamline warehouse operations by making it much faster and easier for workers to report issues or abnormalities and then return to their normal workflow right away."
This out-of-the box solution is easy to configure and requires little training to get workers up to speed, providing an incredibly fast time to value. And since the customer will use both Velocity and Ivanti Neurons for IIoT to enable these processes, no Pro Services are required.
Learn more about Ivanti Wavelink's Business Process Automation here.
About Ivanti Wavelink:
Ivanti Wavelink is a global leader in supply chain solutions that focus on task worker operational excellence in business-critical environments. Over 25,000 customers have deployed Ivanti Wavelink solutions to accelerate warehouse operations, reduce risks, and increase productivity through intelligent insights and automation. Our market-leading mobile enterprise platform, combined with our innovative mobile and IIoT solutions, can enhance task worker productivity at the edge and drive efficiency and profit to the bottom line. Ivanti Wavelink is part of Ivanti, a global technology company that enables and secures the Everywhere Workplace. Ivanti is headquartered in Salt Lake City, Utah and has offices all over the world. For more information, visit www.ivanti.com/wavelink
Featured Product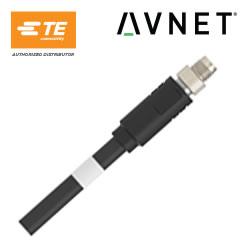 Single Pair Ethernet enables high speed communication up to 1 Gb/s in a cost-effective solution that reduces complexity, space and weight by transmitting over two wires rather than four of eight. In robotics and industrial applications, this weight reduction enables faster movements and lowered energy consumption while enabling data and power up to 50W over a single twisted pair. TE Connectivity is a proud founding partner in the Industrial Partner Network who is driving the adoption of Single Pair Ethernet technology.