As the leader in industrial IoT solutions, the OAS Platform provides secure networking solutions to move, monitor, and connect data. It enables excellent connectivity between PLCs, databases, and custom apps. Open Automation Software (OAS) works as an efficient IoT gateway to seamlessly move data between devices, applications, and databases.
As the most reliable IIoT service provider, the company always focuses on ensuring the security of the platform. Recently, the latest Version 17 of OAS has been released with advanced security features.

To secure older versions of OAS, follow the instructions here: Getting Started - Security
The experts at OAS keep reviewing the platform capabilities to keep up with the latest technology and improve their security. With the latest security enhancements in Version 17, the OAS has become the most trusted platform for the SCADA system. This new version enables ironclad protection from packet spoofing and faster byte stream compression. It also comes with updated encryption to protect against unauthorized access.
The OAS Version 17 aims to improve the data security of the platform to keep clients' critical systems and data safe. To achieve this, OAS has updated all client interfaces and users are notified to set up security on the OAS Engine. OAS platform developer says, "At OAS, we believe that security is the foundation of any software. However, software security depends on the developer, as well as the end-user. We have updated the security feature and ensured that the end-user utilizes the latest security features. The new security update has user credentials encryption which encrypts the user credentials. We have also added secure client-server handshaking that includes a unique 64-bit identifier allowing OAS to securely transport your data. The new update comes with pre-configured admin security groups that prompt users to create an admin user upon installation. The system prohibits access until an admin user has been created. It means that only authenticated user can configure security who has assigned access to this feature. The unauthenticated users are prohibited and get access to only limited functionality."
Open Automation Software provides smart solutions across multiple industries. As an IoT gateway for industrial automation, OAS enables businesses to transfer data from any source to any destination. The platform has revamped its encryption process by making data packets 3-9 times smaller which has improved transfer speed. With the release of this robust security update, all OAS client interfaces have been updated to include this new transport including all .NET assemblies, OAS Configure application, Excel Connector, and service-to-service communications for Windows and Linux.
About Open Automation Software
Open Automation Software provides top-notch and highly efficient industrial IoT solutions. The company is engaged in developing custom IIoT solutions to help businesses streamline their operations. OAS enables moving data from one location to another. The company is recognized for offering OPC, HMI, SCADA, and IoT technology services for more than 28 years. With the release of Version 17, OAS has become one of the safest platforms available for businesses to make data-driven, informed decisions. For more information and details, please visit https://openautomationsoftware.com/
Featured Product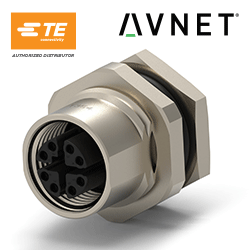 TE Connectivity's M8/M12 connector system has been designed for the challenges of industrial environments. These heavy-duty connectors are pre-assembled and watertight even when submerged, making them ideal for harsh environments such as actuators, PLCs, I/O boxes, sensors and switches in HVAC systems, alternative energy, factory automation and robotics. Beyond being robust, these interconnect solutions are also high-speed supporting up to 10 Gb/s of bandwidth increasing productivity and efficiency and decreasing downtime.