Presented at Automate 2022 in Detroit, Michigan, the Innovators Awards recognize outstanding products and services for the machine vision industry.
Global industrial computer hardware manufacturer and solution provider, OnLogic (www.onlogic.com), has been recognized among the best in machine vision by the judges of the Vision Systems Design 2022 Innovators Awards program. The company's Karbon 800 Series of rugged computers earned a Silver Innovators Award, which was presented to the OnLogic team on the show floor of Automate 2022 in Detroit, Michigan on Monday.

"The Vision Systems Design team would like to congratulate OnLogic for their score in the 2022 Innovators Awards program," says Chris McLoone, Editor in Chief of Vision Systems Design. "Each year this unbiased and increasingly competitive program aims to celebrate the most innovative products and systems in machine vision. The OnLogic team should be very proud."
The OnLogic Karbon 800 Series is designed for Industry 4.0 and Industrial IoT applications that require powerful computing in harsh environments or remote locations. The computers are powered by Intel's latest 12th Generation of Core processors, formerly known as Alder Lake.
"We're thrilled that the Karbon 800 has been recognized for the potential it holds to help innovators create incredible machine vision solutions," says Kim Wasserman, Director of Product Management at OnLogic. "We've focussed on features and expansion options to support the wide range of solutions our customers are building using our rugged computers. This includes PCIe Gen 4.0 expansion for the latest GPUs, and new I/O options like 10GbE and M12 LAN. We're also working on additional configurations that will launch soon, including a high-capacity RAID array option. Today's vision-based projects are all unique, so configurability and customization were key requirements in the development of the Karbon 800 Series."
Karbon 800 Models
Each model in the Karbon 800 Series can be configured with up to a 16-core, Intel Core i9 processor and 64 GB of DDR4 ECC or non-ECC memory. A wide range of storage and expansion capabilities are available, including single and dual PCIe 4.0 slots. Along with PCIe, OnLogic's unique ModBay expansion technology can be used to add a variety of additional connectivity and storage options, including up to 22x LAN ports or 30x USB 3 ports.
Karbon 801 (K801)
Less than 2 in (50 mm) tall, PCIe 4.0 NVMe storage, optional 4G LTE or Wi-Fi
Karbon 802 (K802)
2x ModBay I/O expansion bays
2x 2.5-inch SATA SSDs with optional hot-swap
Karbon 803 (K803)
1x single-slot PCIe 4.0 x16 expansion
Karbon 804 (K804)
2x ModBay I/O expansion bays
2x 2.5-inch SATA SSDs with optional hot-swap
1x dual-slot PCIe 4.0 x16 or 2x single-slot PCIe 4.0 x8 expansion
6x 2.5-inch NVMe or SATA RAID array (coming soon)
More information about the Karbon 800 Series is available at www.onlogic.com/computers/rugged/karbon-800/ or by contacting an OnLogic Solution Specialist at 802-861-1590.
About the Vision Systems Design Innovators Awards
The Vision Systems Design Innovators Awards program reviews and recognizes the most innovative products and services in the vision and image processing industry. Criteria used in the 2022 Innovators Awards ranking included: originality; innovation; impact on designers, systems integrators, and end-users; fulfilling a need in the market that hasn't been addressed; leveraging a novel technology; and increasing productivity. The judging panel consists of esteemed experts from system integrator and end-user companies.
About Vision Systems Design:
Published since 1996, Vision Systems Design is a global resource for engineers, engineering managers and systems integrators that provides comprehensive global coverage of vision systems technologies, applications, and markets. Vision Systems Design's magazine, website (www.vision-systems.com), email newsletters, and webcasts report on and analyze the latest technology and business developments and trends in the worldwide machine vision and image processing industry.
About OnLogic:
OnLogic is a global industrial computer manufacturer who designs highly-configurable, solution-focused computers engineered for reliability at the IoT edge. Their systems operate in the world's harshest environments, empowering customers to solve their most complex computing challenges, no matter their industry. Founded in 2003, the company has offices in the U.S., the Netherlands, Taiwan and Malaysia. OnLogic has helped more than 70,000 customers worldwide advance their ideas with computers that are designed to last, built to order and delivered in days. Learn more at www.onlogic.com or on YouTube at www.youtube.com/onlogic.
Featured Product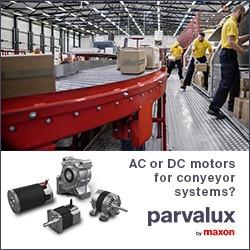 This GB56 right-angled, coupling driven gearbox from Parvalux packs a powerful punch in a small package. A width of 39mm and an output torque of 50 Nm in short-term operation. Ideal for applications where space is at a premium.