2022 findings reveal that nearly two thirds of businesses will be fully automated by 2025
23rd June 2022 - Guidance Automation, a pioneer in guidance, navigation, and control technologies, today announces the findings of its annual automation report.

Undertaken by SAPIO Research during March 2022, the report looks to understand the 2022 market for Autonomous Mobile Robot technologies (AMRs) amongst companies that have a warehouse, fulfilment, production, or distribution operation - and how it has changed from the same research conducted in 2021.
The research was conducted with the UK's leading intralogistics technology decision makers and looked at the year-on-year differences, which included the industry's change in time and expectations of implementing AMRs; the drivers and perceived barriers to implementing AMRs; and what businesses look for in an intralogistics automation vendor.
Summary of key findings include:
• General
o A 17% annual increase, to 40%, in businesses that continuously review their warehouse, fulfilment, production, and distribution centre processes (23% in 2021).
• Intralogistics Automation
o Greater number of respondents in 2022 (61%) than in 2021 (54%) believe intralogistics automation will bring a higher value than the investment over the next five years.
o 40% of respondents believe that intralogistics automation is critical for the success of their business - a 7% increase since 2021.
o Low operation costs (35%), increased productivity and efficiency (31%) are the most desired benefits to automating material movement.
o The largest barrier to implementing automation in 2022 is cited as the extent of the downtime needed to upgrade - in 2021, the largest barrier was lack of trained employees to maintain the automated systems.
o Over 3 in 4 respondents (76%) said budget constraints were the main reason preventing automation.
• AMRs
o Around 1 in 3 (66%) respondents predict implementing Autonomous Mobile Robot Technologies (AMRs) will bring a financial value to their business which will be higher than the initial investment.
o Companies continue to dedicate a larger portion of material movement to AMRs.
With over half of respondents saying they have already implemented AMRs, and over a third citing they are planning to do so within the next 12 months - the fast road towards automation continues. Additionally, 62% of those who took part in the 2022 annual report said that their business would be fully automated within the next three years.
With lower operational costs and increased productivity and efficiency as the most desired benefits - over 60% believe that intralogistics automation and AMRs will bring a greater financial reward to the business than that invested.
While decision makers expressed a concern about the amount of downtime needed to implement automation, the difference in time they believe it would take for implementation compared to the actual time it takes, is between four to five months, highlighting that concerns may be misplaced. This research suggests that this particular barrier to automation can be overcome by education and implementation support from an experienced vendor.
Autonomous Mobile Robot technologies are flexible and can be introduced gradually to ensure they maximise potential and are utilised effectively. Entire infrastructures and processes do not have to be completely ripped up to introduce automation. This is why it is increasingly important for businesses to partner with an automation expert who can identify opportunities for where automation can be added, and quantify the benefits and efficiencies that can be gained.
Businesses that are interested in investing in automation should consider a vendor who offers a trial period of automation technology and AMRs in order to demonstrate the benefits; from improved operational speed or increased efficiency. By 'trying before you buy,' organisations can realise how easy and intuitive the automation process can be; how they can improve their operations; as well as how and where automation and humans can work together.
Dr Paul Rivers, CEO of Guidance Automation commented: "Our 2022 report shows how industry leaders are now really embracing the need to be automated - in just twelve months, we have seen a huge increase in the understanding that AMRs will bring a significant return on investment. The future of the warehouse, fulfilment and distributions industry will see a greater use of technology and data - not only will this contribute to improved productivity, space saving, and reduced operational costs - but also better ROI.
"By partnering with an automation expert, to undergo a small-scale trial, and being educated on the different routes to invest in the technology, businesses of all sizes, particularly SMEs, can understand how automation can be embedded in any organisation to create an efficient and flexible working environment, without having to rip and replace facilities."
To find out more about Guidance Automation's 2022 Annual Automation Report please visit https://www.guidanceautomation.com/white-paper-covid-19-fast-tracked-intralogistics-automation/
About Guidance Automation's 2022 Annual Automation Report
The interviews were conducted online by Sapio Research in March 2022 using an email invitation and an online survey.
The survey was conducted among 151 intralogistics technology decision makers from the UK.
At an overall level, results are accurate to ± 8% at 95% confidence limits assuming a result of 50%.
About Guidance Automation:
An award-winning pioneer in guidance, navigation and control technologies, Guidance Automation has over 30 years' experience in developing advanced solutions for the global robotic vehicle market and has thousands of systems in service.
Guidance Automation is proud to have enabled its clients to automate robotic vehicles, forklift trucks, floor cleaning equipment and all types of mobile moving systems. These solutions have been applied in a broad range of autonomous transport applications such as airports, warehousing, healthcare, production, bottling plants, printing, retail, marine and more.
Now with a focus of unlocking the automation potential for SMEs, we continue to use our expertise to improve material handling and manufacturing operations.
Our future lies in unlocking automation potential for all, making it easy to access for everyone. Automation is no longer just for big business - any manufacturing or logistics company can, with our support and expertise, seamlessly create a hybrid workforce that truly is fit for the future.
Featured Product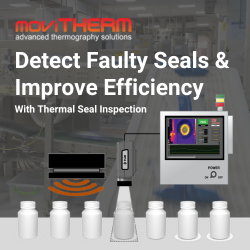 MoviTHERM's Thermal Seal Inspection (TSI) solution provides precise and reliable detection of defects in a variety of packaging types, including pouches, bags, blister packs, bottle caps, and more. By detecting defects in your packages, the TSI solution helps increase efficiency in your production line and ensures top-quality packaging is delivered to your customers every time. With state-of-the-art technology and an experienced team, MoviTHERM is dedicated to delivering accurate inspection solutions and peace of mind to its clients. Contact MoviTHERM today to learn more about their thermal seal inspection solution.